Disclosure: This post may contain affiliate links, which means we may receive a commission if you click a link and purchase something that we have recommended. While clicking these links won't cost you any extra money, they will help us keep this site up and running! Please check out our disclosure policy for more details. Thank you for your support!
If you're a blogger, you'll find that the number of "recommended" plugins, hosting, etc. is vast. Frankly, if you do a web search for something like "best SEO plugin," most of the results you'll find will actually be sponsored posts. To help cut down on some of the noise, below you'll find some of the blog resources and best blogging tools that I recommend and use myself, or, in some cases, that others have recommended to me.
Recommended Blogging Tools
Writing Tools
Good writing will make your blog appear more professional. Take your writing skills to the next level with these tools.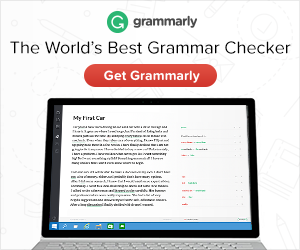 Blogging is a written platform, so it's important for bloggers to pay special emphasis to things like grammar. I don't profess to know all of the writing rules, but Grammarly is a HUGE help on this front! I use the free version, which corrects 250+ mistakes (such as spelling, incorrect word usage, comma placement, and grammar) and works on any web-based program, including WordPress, Facebook, Gmail, and Twitter.
I've been using Grammarly for the better part of a year now, and I honestly cannot imagine writing anything without it. No matter how good your writing skills are, I bet you'll be able to make use of this tool.
Also check out 5 Tools That Will Make You a Better Writer
---
Web Hosting for Bloggers
When I first started FantabulouslyFrugal.com I was hosting it through Blogger, but after about a year I made the migration to WordPress. Blogger vs WordPress is a big debate in the blogging world, but if you choose to go the self-hosted WordPress route, here is a short list of recommended web hosting for bloggers. (No, I in NO WAY recommend Bluehost. Bluehost sucks. Run as far away as quickly as you can.)
If you're looking for an affordable web host that's not affiliated with EIG (the company that owns Bluehost and myriad other hosting companies), GreenGeeks is a fantastic option! Packages start at $3.96 per month, and that includes web hosting, email, unlimited space, a transfer to their servers and more.
Check out why you should consider a green hosting provider for more about GreenGeeks.
SiteGround has been getting a lot of buzz as being one of the most stable and affordable web hosts for bloggers. Prices start as low as $3.95 per month for your first year and you also get a free domain name for one year. One great thing about SiteGround is that you can scale your service so you're not paying for server space that you're not using. For instance, the cheapest plan works until you're receiving 10,000 visitors per month, at which case you may want to upgrade to prevent downtime. Having options like this is rare, but great for new bloggers!
Check out how to set up a new blog on SiteGround in 10 minutes or less.
---
Design Resources
Since we weren't all born with – or taught – graphic design skills, it's great to have a few design resources that you can turn to when you need something like a new font, a background, graphics or templates. These are the design resources I turn to on a regular basis.
Whether you're looking for new fonts, or website templates, or maybe even Photoshop tools or stock images, Creative Market is a great place to look. It has become one of my go-to destinations when I am looking for anything related to graphic design.
Tip: Every Monday Creative Market releases six free design tools! I obsessively check for their newsletter on Monday mornings!
I have found that Creative Market and The Hungry JPEG are very similar but I use them both. The prices at The Hungry JPEG are a little better overall, but more importantly, you never know what will be on sale or offered for free at either site. Another thing I love about this site is that they have a large selection of $1 deals, which is mostly filled with fonts.
---
Email Newsletter Options for Bloggers
If you're new to blogging, one of the things you're going to constantly hear is that you need a "list." A "list" means an email list of people who subscribe to your blog. It's a long-held belief that you need a "list" to be successful but I'm going to call it like I see it: I think this is mostly BS. Is it nice to get your blog posts directly in front of people who subscribe to your list? Sure. But only 20-30 percent of people open those emails so I would tell you to carefully consider your budget and goals before paying to set up an email newsletter. Honestly, with ShopGirlDaily.com I really wish I had gone the route of sending out a *free* daily newsletter via my RSS feed. It would have been 10x easier and saved me hundreds of dollars.
Note: I do not in any way think email lists are bad but I don't think they're the end all be all that some suggest.
Most RSS feed burners will allow you to send out an email newsletter of your feed for free, but if you're looking for something with more formatting options I highly recommend Mad Mimi as one of the best email newsletter providers for bloggers. It's one of the most reliable and affordable newsletter options out there. Get started with their free plan to see if it's right for your needs!
Mail Chimp is what I personally use on most of my websites. It's reliable, fairly easy to use, and there are tons of theme options. For ShopGirlDaily.com I use the RSS newsletter option, so every day at 5 p.m. CT an email goes out with the posts I wrote that day. You can also manually send newsletters, among a score of other options. Mail Chimp is free if you send less than 12,000 emails per month, however, you will need to pay to upgrade for some of their advanced features. Paid plans start at $10 per month.
MailerLite is a newer email newsletter option that I've started using and I absolutely love it! In my opinion, it is actually the best free email option because not only is your plan free until you reach 1,000 subscribers (regardless of how many messages you send out a month), but they also offer sequences (great if you want to send out a course via email) as part of the free package!
I decided to upgrade to a heftier email system for this site because I wanted to add the option of landing pages and also have the ability to easily set up multiple automated emails. I love ConvertKit and think it's great, but the service starts at $29 per month so I don't recommend this as an ideal option for beginning bloggers. If you're looking for a heavy duty email system that gives you the option to create landing pages, email series, and so much more, ConvertKit is a great investment.
---
Photo Editing & Graphic Design  Tools
Adobe Spark is a new free option from Adobe that seems like a direct competitor to Canva. You can use their tools to easily create graphics, web pages, and videos.
Canva is one of the most popular photo editing programs with bloggers because it is so easy to use. Canva is free, although power users may wish to upgrade to the subscription-based Canva for Work version, which costs $12.95 per month.

PicMonkey is a fantastic photo editing and design tool that is quite easy for beginners to learn and use. Whether you're editing the photos you take on your phone or DSLR, or creating collages for your blog posts (and Pinterest), PicMonkey is a great all-around tool. The basic edition of PicMonkey is free, or you can upgrade to the premium version that includes all of the bells and whistles for $4.99 per month (or less if you pre-pay for a year).
The design program that I'm currently obsessed with is Stencil. Stencil makes it incredibly easy to design graphics for your posts, and with the click of a button you can resize them for all of the different social media sites. With your Stencil membership, you'll receive access to their library of 1,000,000+ photos (no more paying for stock images!) and a massive library of quotes and icons. Stencil has a free plan, or you can upgrade for $9 per month if you want more power. I used to allocate at least an hour to create graphics for any post, but with Stencil, I have decreased that time to approximately 10 minutes per post.
Another thing I love? You can post your creations to social media sites from within Stencil and have a live preview of how the post will look.
---
Photography Tools
If you're going to be taking a lot of detailed shots of products – for instance, books, jewelry, or makeup – and you don't have a lot of natural sunlight at your disposal, I highly recommend investing in this Photography Shooting Tent Kit. You get the enormous tent as well as the two lights, which will help you almost perfectly replicate sunlight. Believe me when I say that this will make your photos that much brighter and cleaner, which will, in turn, help you to look more professional. I've found this especially helpful on Instagram photos and now nearly all of the photos on my Shop Girl Daily account are taken inside this photo tent. At just $49.60, it's one of the best purchases I've made.
We don't all have professional photographers that we can use
for fashion shoots or product photography. If you don't want to beg someone to take pictures for you, I highly recommend using your trusty cell phone! The cameras on cell phones are pretty amazing these days, so you may find you can take many of your own photos with nothing more than a cell phone tripod and remote. If you already have a tripod, there are adapters you can purchase that will hold your cell phone in place.
---
Recommended WordPress Plug-Ins for Bloggers
If you're setting up a website that you don't want the outside world to see yet, then Coming Soon Pro is definitely worth purchasing. It's the plugin I used on this site and I loved that it let me completely customize a landing page that had an email newsletter sign-up form and also shared our social media links. At $29, this plug-in probably isn't necessary for new bloggers but it can be great in certain situations.
CoSchedule is a must-have for bloggers who are looking for an all-in-one solution that will help you keep and manage an editorial calendar but also schedule social media posts to Pinterest, Facebook, Twitter, and G+… for years in advance if you want to do so. Check out our full CoSchedule review for all of the details.
All bloggers that are using affiliate links should use a link cloaker like Pretty Link Lite or Thirsty Affiliates. What these plug-ins do is mask your ugly affiliate links (or long links in general). For instance, this is the link to our list of sites that will pay you to blog:
https://docs.google.com/spreadsheets/d/1ZDmb7NOLcoylKFNnaeUgGIu1D3fV5UCSWhUhR6kH1PA/edit?usp=sharing
That's pretty long and ugly, right? I'm currently using Thirsty Affiliates on this site (because I wanted to try something new) so the cloaked link now looks like this:
https://ohsheblogs.com/recommends/make-money-blogging/
In short, an affiliate link cloaker is a must-have that will save your sanity. For more on both of these services, check out why all bloggers should use an affiliate link cloaker.
I've tried quite a few different plug-ins to show social media buttons on my site, including SumoMe (which is also great), but I recently became a convert to Social Warfare. They have the typical social media buttons that you can place wherever you want on your site, but the reason I LOVE Social Warfare is because of its Pinterest integration. The general consensus is that Pinterest images should be long and skinny, which usually don't look too great in blog posts. Thanks to Social Warfare you can "hide" those images so that they don't show up in your post but when people click the Pinterest link on your page they will be prompted to pin the special Pinterest-friendly image! You can also create a special image that's optimized for Twitter and Facebook shares as well. Social Warfare costs $24 per year.
This is one of the most valuable plug-ins I have installed on my sites, it's considered a must-have by virtually everyone and it is FREE! Yoast will help you optimize search engine optimization (SEO) for your entire site, as well as each individual post. Tip: Make sure you're downloading the Yoast SEO plug-in, as there are quite a few SEO plug-ins available.
---
Social Media Tools for Bloggers
BoardBooster is a great tool for those looking to grow and automate their Pinterest accounts. It gives you the option of scheduling pins via secret boards, looping pins (aka repinning your pins to the same boards or other boards), and other powerful tools that heavy Pinterest users will love. Plans start at $5 per month for 500 pins and go up from there.
I use a lot of different scheduling tools to help minimize my workload and Buffer is the tool I use to schedule posts to Twitter, as well as my Facebook pages and groups. You can also use Buffer to schedule your retweets. Or to share items you find on Pinterest (the link will go to the original post and NOT to Pinterest!). This is an easy and fast tool to use that costs $9.99 per month.
Grum is currently one of the only tools that will let you post directly to your Instagram account from your computer. You can schedule posts (that get published when you want them to without you needing to log back into Instagram after receiving a reminder). You can also access multiple accounts from the same dashboard. Grum is not a viewing platform, however. It is just for posting. Grum offers a 3-day free trial with unlimited photo sharing and no credit card required. After the trial is up the service costs $9.95 for 2 accounts; $3.95 each for 3-5 accounts; or $2.95 each for 6+ accounts per month.
Something that's currently not very easy to accomplish is posting affiliate links on Instagram since you can't have live hyperlinks in your captions. The only "active" link is the one that goes to your website in your profile. Well, thanks to Link in Profile, it's actually really easy to use affiliate links on Instagram. When writing a post, you just need to include an affiliate link in the caption of the post (it can even be buried at the bottom). Then, when people click the link in your profile they are taken to a new page where they can see all of your Instagram posts. From there, they can click on an image and be taken right to that product page via an affiliate link. I know that's confusing. I don't really understand the technology myself; It's magic! Link in Profile costs $9.99 per month, which could be a bargain if you make a lot of sales via Instagram!
I talk more about Link in Profile int his post about how to make money from Instagram.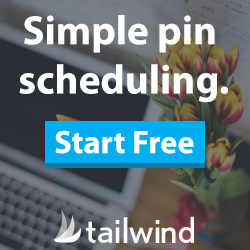 I didn't want to believe all of the hubbub about Tailwind, but after a couple of days of using it I was sucked in and haven't looked back. Like many bloggers, I'm often pulled in a hundred different directions and short on time so I'm always falling behind on something. Thanks to Tailwind that "something" isn't Pinterest because it makes it SO easy to schedule Pinterest posts for weeks at a time. Not only that, but they offer better analytics than you will find anywhere else. Since using Tailwind I have only seen my repins and followers go up and up and up. With a $119 paid yearly subscription you can schedule an unlimited number of pins at a time. A $9.99 monthly subscription is also available but with that you can only schedule 400 pins at a time.
Be sure to check out our post, How to Use Tailwind to Explode Your Blog Traffic.
---
Beautiful & Easily Customizable WordPress Themes
A lot of new bloggers think that they need to hire someone to design an intricate site for them. Let me assure you that this is absolutely not the case, especially not these days. I am in no way a web designer. I am lucky enough that I know my way around Photoshop so I can design headers, but I cannot do intricate web design. I paid someone to design FantabulouslyFrugal.com, but I've been able to design and maintain every other site I have thanks to the following theme designers.
I found Angie Makes when I was shopping for a new theme for ShopGirlDaily.com and her aesthetic really spoke to me so I'm now using their Jasmine Theme. They offer exceptional customer support – I had a question once and they not only responded to me within minutes but they also updated their general FAQ with my question and answer immediately so that others would have access to the same knowledge. Their "pretty, feminine" themes cost $70 each. For an additional $15 they will install it for you, too.
When it comes to easily customizable WordPress themes for online entrepreneurs, Restored 316 just gets it. The themes have all of the bells and whistles – like sticky announcement bars and Pinterest images that don't show up in your posts – and most cost less than $100. Their themes are built on the Genesis Framework, which is fine, except that you will also need to purchase that framework before purchasing/installing your Restored 316 theme.
This site right here, Oh, She Blogs! was designed by the amazing people at Station Seven Creative! Looking for more specifics? We're using their Parker Theme, which cost all of $49 and was so easy to customize. Honestly, Parker is the easiest site I've customized, which is really saying something because there are a lot of bells and whistles. Whenever I got hung up on something I checked out the theme help section of their website, which was full of Q&As and general support topics. All of the themes from Station Seven Creative have a clean and minimalistic vibe that I love.
I've tried out lots of different WordPress themes over the years, but bar none I think Swift Themes is one of the absolute easiest for beginners to use. It's fairly easy to design a site to look exactly how you want it to look without needing to know how to code. There is a free version of Swift, but the Personal License (which comes with support) costs $57 and then $10 per year. This is what I use.
While most of the sites in this list have a limited number of theme options available, Themeforest is the exact opposite. Themeforest has 22,000+ WordPress themes listed, with prices starting as low as $2. While you're sure to find something you like, the sheer number of options is a bit daunting!
---
SEO Tools
At the risk of sounding like a little old lady, it used to be a lot easier to start a blog. Now there's so much competition that if you want to become a professional blogger you really need to go into it with a plan in place to help you be as successful as you can be. Everyone talks about SEO and one of the best ways to achieve good SEO on your site (aka get lots of love from Google) is to focus on the keywords in your post. A keyword is basically the general theme of your post, or the words someone would type into a search engine that would *hopefully* lead them to your site. To help drive traffic to your site, a good keyword research tool is a must.
I have tried out a bunch of different SEO tools. Some cost as much as $99 per month, and while they were amazing, that's way outside of my budget. Currently, I'm using Keysearch, which does just about everything that the pricier options do but costs just $17 per month!
With Keysearch you can do quick keyword research that will let you know how difficult any keyword or phrase will be to rank for, and will also give you related terms. You can see the websites that are the top-ranked pages for the terms you're targeting. You can track how your own pages do in terms of SEO ranking. Keysearch is an invaluable research tool.
Keysearch Coupon: Use code "KSDISC" at checkout to take 20% off your subscription!
---
Blog Maintenance Tools
Check out how your blog is doing – for free – with QuickSprout.
How quickly your blog loads is important, and with GTmetrix you can check that out for free, and they'll even provide specific suggestions that will help speed things up.
Want to know what a real user thinks of your site? Check out Peek, where you'll receive a five-minute video of someone using your site – for free! This is a great way to see what you might need to work on from someone else's viewpoint.
Want to check your Instagram influence? Check it out here.
---
CSS Help
At some point you might want to take your blog styling into your own hands, at which point you might need a little bit of help. I've been doing this for quite a few years and I constantly need help with things like CSS! When the going gets tough, here are a few of my favorite resources.
How to Style Your Blog with CSS + Four Page CSS Worksheet – Creatives in Transit
CSS Tutorials – Code it Pretty (this site is no longer updating but the tutorials remain some of the best)
---
WordPress Help for Bloggers
I don't think I'm alone in saying that over the years I have needed WordPress help for my blog but I never knew where to turn. I didn't have any friends who had an interest in WordPress or blogging, so I was more or less on my own. Now, however, these are the sites I turn to when I have a WordPress problem that I can't fix on my own.
I have nothing but good things to say about Fantasktic. For $99 they will help you fix almost any WordPress issue. $99 sounds like a lot of money, but sometimes there are things you just don't know how to do. For instance, I recently spent a couple of weeks trying to get a plug-in installed on my site and it just wasn't working. I spent probably a good 15-20 hours trying to figure out what was wrong and even asked a couple of bloggers who were hosting the same plug-in for help to no avail. Finally, I contacted Fantasktic and they were able to fix the problem within 24 hours.
For cheap WordPress help look no further than Fiverr! Yes, Fiverr! I've been able to get help with basic WordPress, CSS, and HTML issues for just $5 from this site and the turnaround time is super quick once they begin working on your site (the best people usually have a queue so it can take awhile to get started). I have found that you need to be VERY specific with your request though.
Do Tell: What blogging tools do you recommend? We're always interested in giving new services a shot so please share your favorite blogging tools! It could become our favorite, too!

Lisa Koivu is the founder of Oh, She Blogs! A seven year blogging veteran, Lisa can also be found posting shopping deals and steals at
ShopGirlDaily.com
. In her free time (ha!) she is also a freelance writer who has written for About.com and U.S. News.

Latest posts by Lisa Koivu (see all)