Disclosure: This is a blog about how to make money blogging, and where we recommend affiliat programs for bloggers. As such, this post may contain affiliate links, which means we may receive a commission if you click a link and purchase something that we have recommended. While clicking these links won't cost you any extra money, they will help us keep this site up and running! Please check out our disclosure policy for more details. Thank you for your support!
It used to be really easy to add social media tabs to your Facebook page, but those days disappeared a few page updates ago. If you're not sure what I'm talking about, social media tabs are additional fields that you can add to the left side of your Facebook page that allow you to link to your Twitter, Instagram, Pinterest and Youtube accounts. While I'm sure there must be a couple of different ways you can do this, I thought I'd share my go-to service and a quick tutorial for how to add social media tabs to your Facebook page using Woobox.
Anytime I talk about Woobox I feel like I need to make a disclaimer that I know the site looks a little bit spammy, but I swear it's 100 percent legit. I've been using Woobox for years. You'll see lots of talk about "pricing" on the site, but using the service to set up tabs for your Facebook page is free.
How to Add Social Media Tabs to Your Facebook Page
1. Go to Woobox.com & set up your free account
Head on over to Woobox and in the upper right hand side of the screen hit "get started for free." Go ahead and register for a free account. Be sure to attach your Facebook account as you will need this to gain access to your pages.
Please note: The social media tabs will only appear on your Facebook page when viewed on a computer. You will need to upgrade your account to a paid plan to activate mobile access.
2. Create a static tab
Once your account is set up, click on the "Static Tabs" link at the very top of the page. You'll come to a page like the one above. Go ahead and click on whichever tab you would like to set up. (An HTML Fangate will allow you to put generic code onto the page. You could use this for an email signup form, another social media site that's not supported by Woobox, or possibly even a giveaway!)
For the purpose of this tutorial I'm going to create a Twitter tab, but the process is more or less the same regardless of which social media tab you choose to set up.
As soon as you click on the Twitter tab you will be taken to a new screen that lets you know that a Twitter tab was successfully added to your Facebook page. (Assuming your Facebook page was connected to your account during the registration process.)
3. Verify that the new link is on your Page
Check out your page to verify that the tab shows up. It's not pretty, but it's there! Go ahead and click on the link.
4. Configure the tab
You're going to see a screen like the one above if you're setting up the tab for the first time. Hit the "configure page tab" button and you'll be taken back to Woobox. In order to get your tweets to appear in the tab, you'll want to enter your Twitter Username. Enter it, hit save, then check out the tab again.
Now you'll see that all of your tweets appear. It's not necessarily the prettiest format, in my opinion, but the important part is the big blue "follow" button!
The Pinterest tab looks a little better, as your actual boards show up.
And, if people open up a board they can view individual pins, and can repin right from this page, or even share and/or like on Facebook!
After you've got your first social media tab on Facebook, go back to Woobox to add any others that you need.
5. Add some style
Once your tabs are set up, it's time to add some style! Go to the tab you want to edit and click on the "Tab Settings" link to edit how the tab appears on your Facebook Page.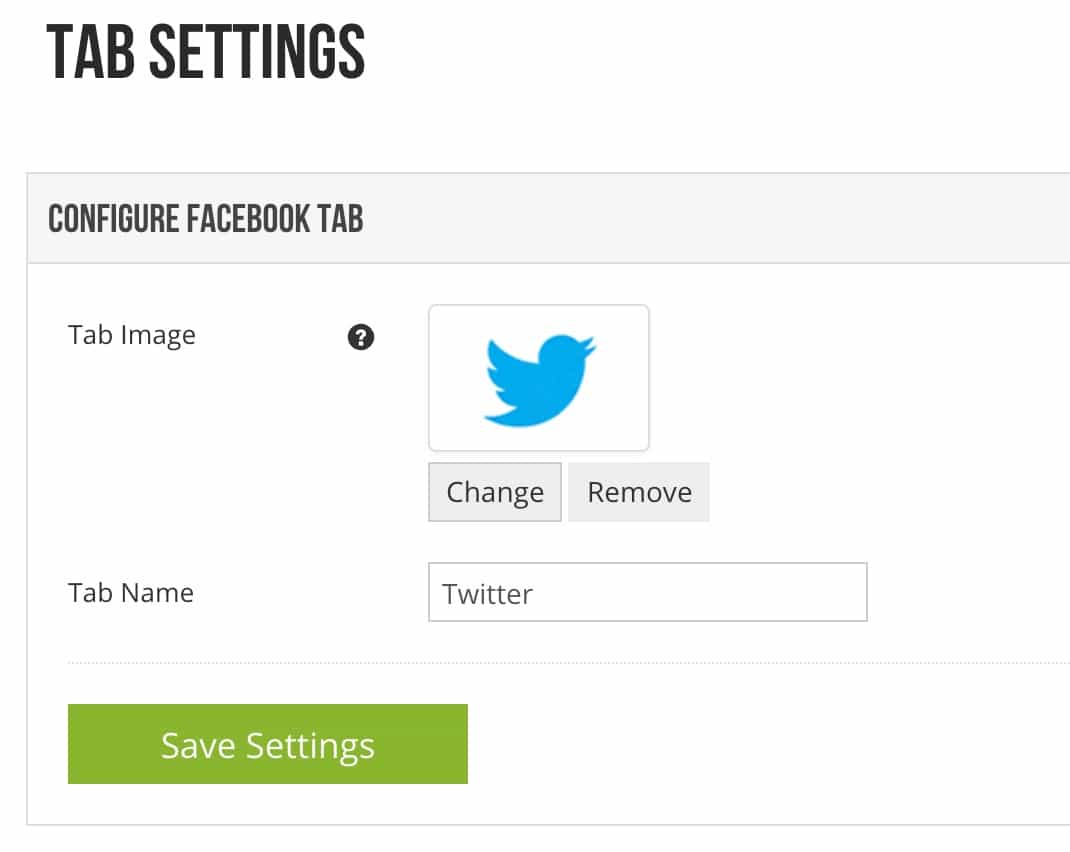 You can edit the image that appears on your Facebook page, as well as the text. If you'd like to design a new image using a site like Canva, PicMonkey, Photoshop or anything in-between, just make sure that the image you create is 111 px X 74 px.
In about five minutes I went from the basic social media icons to a look that coalesces with our brand:
I used the colors and fonts used on Oh, She Blogs to create mini graphics instead of the bland icons, and then I updated the text.
One quick thing to note here: The apps box only shows THREE apps on your Facebook Page, so I went with my favorite three. (You can add more, of course, but only three will be visible on the page.) I'm the most active on Twitter and Pinterest, and I also wanted to provide a way for people to register for our free Affiliate Marketing 101 class without needing to leave Facebook. I may make changes in the future, though, should I decide to push Youtube or Instagram a little harder. You can ALWAYS make changes by going back to your Woobox account.
Though it may seem confusing at first, adding social media tabs to your Facebook Page is actually pretty easy!
Speaking of… have you liked the Oh, She Blogs Facebook Page? I'd love for you to join us!
[convertkit form=4856776]

Lisa Koivu is the founder of Oh, She Blogs! A seven year blogging veteran, Lisa can also be found posting shopping deals and steals at
ShopGirlDaily.com
. In her free time (ha!) she is also a freelance writer who has written for About.com and U.S. News.

Latest posts by Lisa Koivu (see all)