Disclosure: This post may contain affiliate links, which means we may receive a commission if you click a link and purchase something that we have recommended. While clicking these links won't cost you any extra money, they will help us keep this site up and running! Please check out our disclosure policy for more details. Thank you for your support!
Making money from your blog is pretty much the best thing ever. Slightly less awesome, though, is when you need to start keeping track of that money and putting some of it aside for Uncle Sam. Thankfully, there are plenty of online accounting software options that will make all of this a piece of cake. Below are three of our favorite cloud-based accounting software options for bloggers.
As a blogger, it seems that the learning curves keep getting thrown at us, right? We know that blogging is a real job, that can produce real income.  While blogging isn't a typical 9-5 job, it does take full-time hours to run and maintain your blog.
There isn't anything "simple" about choosing to blog as a profession and for those of us who make income off our blogs, we see the proof of that each and every month. It feels great to make money blogging and validate our passions for writing and sharing our knowledge. On the other hand, once your blog starts earning money you're going to need to start thinking about accounting. (Sorry!)
In addition to the fun part – keeping track of the money you're raking in – online accounting software is necessary to help you keep track of expenses, invoices, tax laws, reporting deadlines and so much more. Let's be honest: It's tough to keep track of this information WITH accounting software, so we definitely don't recommend trying to do without.
If you're currently feeling overwhelmed by the thought of needing to learn about accounting, welcome! Join the club! Instead of feeling overwhelmed, though, think of this as an opportunity to learn another skill. (We bloggers sure are jacks jills of all trades, aren't we?!)
Thankfully, if learning how to be your own accountant doesn't really fill you with glee, there are plenty of online accounting software options out there that will make this new stage of your blogging career as painless as possible.
If you are making money and need to start thinking about accounting, here are a few easy-to-use online accounting programs that you can have up and running in no time.
Best Online Accounting Software for Bloggers
Freshbooks is like a breath of fresh air for bloggers. (Or for any small business, actually.) It's super simple to use and understand, and if you happen to stumble upon an issue that you just can't figure out, you can actually talk to a person to get the assistance that you need.
Another awesome factor that is great about Freshbooks is that is can be accessed from anywhere that you are, via any type of device that you may be using! One of the perks of being a blogger is that you don't have to have a set schedule necessarily, right? Imagine being able to rest easy knowing that you can take that trip or vacation and be able to access your financials at any point wherever you are in the world!
Not only can you log expenses in your FreshBooks accounting program, you can also make certain that your clients are billed accurately as well. And, if your blogging business continues on its path of growth, Freshbooks has plenty of features that make it ready to grow with you.
Why FreshBooks is great for bloggers
Time tracking software: Keep an eye on how much time you actually spend on each post. This may help you make better cost estimates when you start charging advertisers for collaborations. (Time is money. Always charge for your time!)
Quickly send stylish invoices to your clients/advertisers.
Send automatic reminders when invoices aren't paid on time.
Accept credit card payments, which means there's absolutely no excuse for late payments.
Take pictures of your receipts and quickly save them to your FreshBooks log. This will make logging your business expenses a breeze next tax season.
Try FreshBooks free for 30 days.
---
If you've ever dealt with your own personal taxes, you're probably somewhat familiar with QuickBooks or their tax software
TurboTax
. While it's from the same family, QuickBooks Online is more of a personally tailored program aimed to guide and support freelancers with their accounting needs.
QuickBooks Online is extremely affordable (starting around $10/month depending on whatever package you choose), which is nice when the blog is just getting starting and earning a bit of revenue. Knowing that you have an accounting program in place that offers support without breaking the bank is a total game changer.
If you are looking for an accounting program that is backed by great support and the ability to have up to five users on one platform where your information can be accessed from anywhere, at any point in time, then Quickbooks Online may be a great choice for you.
Why QuickBooks Online is great for bloggers
Separate and keep track of both your personal and business expenses.
Send invoices from wherever you may be in the world!
If you pay quarterly taxes, they will automatically be estimated for you.
Automatically sort business expenses, which will help make tax filing a breeze.
Snap photos of your receipts and QuickBooks Online will automatically save and categorize them for you!
Import transactions from any of your bank accounts as well as Paypal and Square!
Try QuickBooks Online free for 30 days.
---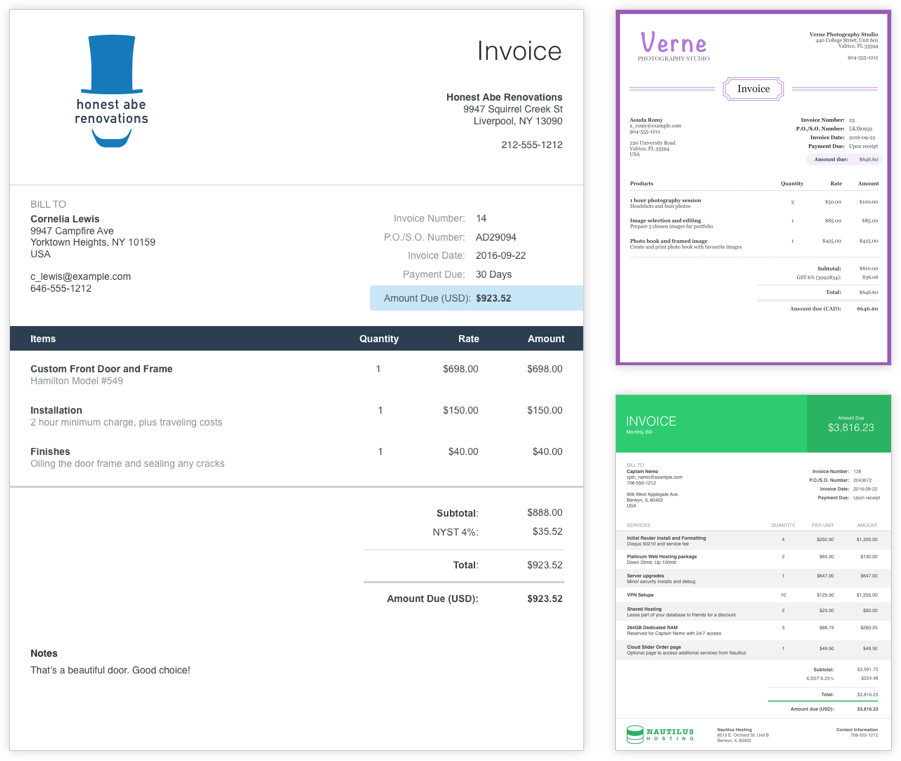 Is it possible to have free cloud-based accounting software that has all of the bells and whistles that bloggers and freelancers love? Why yes, it actually is! Say hello to Wave, an online accounting program that is not only free to use but is super user-friendly as well.
Tracking invoices and balancing your books are all possible with this free platform. And one really cool feature is that you can actually scan in your receipts to track your expenses rather than enter them in manually. That alone is a big deal and huge time-saver! If you decide that you need more than what is offered with the free plan, their options for incorporating payroll features are extremely affordable as well.
Why Wave is great for bloggers
Invoicing, accounting, and receipt scanning are FREE!
Wave is super easy to use and can be accessed anywhere.
Invoice templates can be customized with colors to match your branding.
If your business advances to the point where you need to process credit cards or pay employees, you'll only pay for the specific services you need.
Which Accounting Software is Best for Bloggers?
When it comes to deciding which online accounting software is best for you and your blogging business, you need to ask yourself a few questions.
What is the primary reason you need online accounting software?
Tracking expenses, sending invoices and keeping track of payments from vendors are all valid needs for investing in an accounting program that is best for you and your business. If you have more robust needs, such as paying writers, you will want to compare each program's payroll options and see how they compare.
How do you plan to expand as a business if your blog continues to expand as well?
While this question may be a little bit futuristic in thinking about, it's important to consider now rather than later. While it may be easy to switch accounting programs and platforms if needed, why wouldn't you start with one that can seamlessly transition with you as your business grows as well? If you choose an accounting program that can only work with small businesses under a certain size or revenue amount, then you may be limiting yourself to your future growth without even realizing it.
Are you comfortable and confident enough that you can run the accounting program on your own?
Don't think of this question as a negative, but more as a question of just verifying that you understand that while you are in the market for online accounting software, you will still have to be the one to manage it, learn it, and use it. If you really don't think this is something you can do, you may want to speak to a someone like a Certified Personal Accountant to see what they recommend.
Take time to choose the best software
Once you ask those questions and come to a positive place with your answers, take your time in choosing the accounting program that is best for you and your blogging business. There are truly some great options out there to consider before deciding on one in particular. Both QuickBooks Online and FreshBooks offer free trials, which means that you can try all three of our recommended online accounting software options without spending a dime. Try out each program to see which really offers what you need. Remember, you are the one that is going to be a behind the scenes of running the accounting program, so you need to make certain that you are comfortable using it!
Do Tell: Are you currently using any of these online accounting software options? Is there another program you recommend?

Thena Franssen is the blogger behind the scenes at
HodgePodge Hippie
where she spends her days writing about eco-friendly ways to save money and finding fun ways to stay positive about life. She's a lover of the beautiful chaos of life and looks forward to enjoying each and every day to the fullest alongside her beautiful family.

Latest posts by Thena Franssen (see all)