Disclosure: This post may contain affiliate links, which means we may receive a commission if you click a link and purchase something that we have recommended. While clicking these links won't cost you any extra money, they will help us keep this site up and running! Please check out our disclosure policy for more details. Thank you for your support!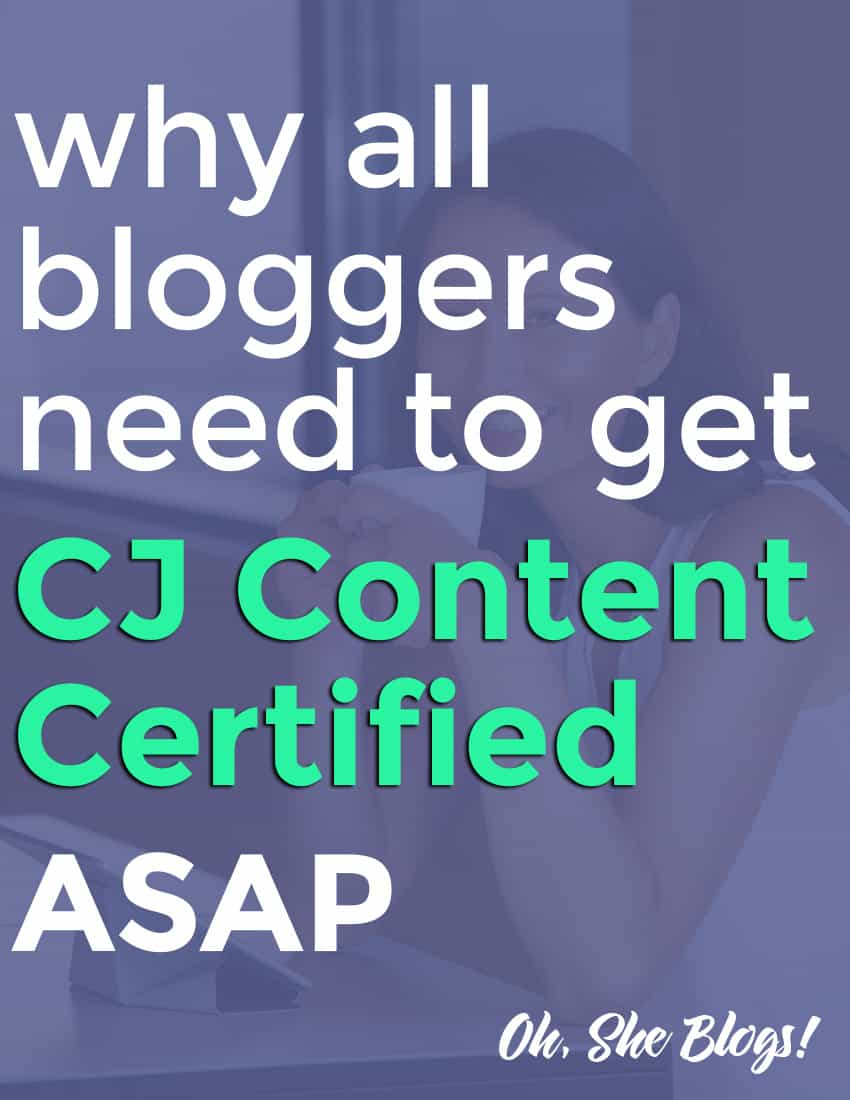 We are all at different parts of our affiliate marketing journey, but did you know that affiliate marketing isn't for bloggers? That's right. Affiliate marketing has been around almost as long as the internet but it wasn't designed for content creators. That's why you will start getting inundated with deals and coupons when you start registering for affiliate programs. Those "ads" are great for affiliate sites like Ebates or Retailmenot, but unless you're a deal blogger they're probably not working out so well for you.
Unfortunately, most affiliate networks and programs still don't cater to bloggers. But, CJ is one affiliate network that's working to fix that and actively encourages their advertisers to work better with content creators.
The way they're doing this is through the CJContent Certified program, which launched last year.
CJ Content Certified Perks
• Most (if not all) advertisers offer increased commissions to bloggers who are content certified.
• Advertisers agree to not be jerks. It's not uncommon for advertisers to cut people out of their programs if they're not performing. Advertisers that want to work with bloggers who are content certified agree to not cut bloggers from their programs if they're not being written about constantly.
• Bloggers get extra opportunities to partner with advertisers in terms of sponsored posts.
• The Content Certified Facebook Group is a great source for affiliate information, including some training videos and regular updates with sponsored post opportunities.
• Another huge perk for bloggers? If you are accepted into the Content Certified program then you are AUTOMATICALLY accepted into the affiliate programs for the advertisers in your niche. For instance, there's a travel niche, a fashion niche, lifestyle, etc. And you can be in more than one niche at a time!
Content certified advertisers are some of the biggest and best that you will want to partner with, I promise you! Just a few of the brands that are content certified include Bed Bath & Beyond, Buy Buy Baby, Jo-Ann Fabric, Michael's, Kmart, Sears, QVC, Petco, TripAdvisor, and so many more. Yes, you can go through CJ and apply to all of these individually, then sit around and wait anxiously for approvals but why do that when you can become CJ Content Certified and automatically approved for these awesome affiliate programs?
Register to be Content Certified
The beta Content Certified program has done so well over the past year that they are opening the program up to more people. The main requirements include having a content site (no deals/coupons at this point), your site must be established (not newly launched with minimal content) and have an approximate minimum of 10,000 page views per month.
Want to join? You must first apply to CJ: http://www.cj.com/publisher-sign
After you're accepted to CJ (or if you're already a member of CJ), it's time to apply for content certification: http://www.cj.com/content-certified-program-qualification
If you'd enter "2652519" in the referral section I would really appreciate it! Yes, there's an affiliate program for this affiliate program – I get $10 for anyone they accept… but rest assured that I am not recommending this program for that $10. I was one of the original members of the beta program and I really think it's great!
CJ's Content Certified program is one of the most blogger-friendly affiliate programs I have found and I cannot recommend it more.
If you're looking for the best affiliate networks for bloggers, the CJ Content Certified program should be near the very top of your list!

Lisa Koivu is the founder of Oh, She Blogs! A seven year blogging veteran, Lisa can also be found posting shopping deals and steals at
ShopGirlDaily.com
. In her free time (ha!) she is also a freelance writer who has written for About.com and U.S. News.

Latest posts by Lisa Koivu (see all)