Disclosure: This post may contain affiliate links, which means we may receive a commission if you click a link and purchase something that we have recommended. While clicking these links won't cost you any extra money, they will help us keep this site up and running! Please check out our disclosure policy for more details. Thank you for your support!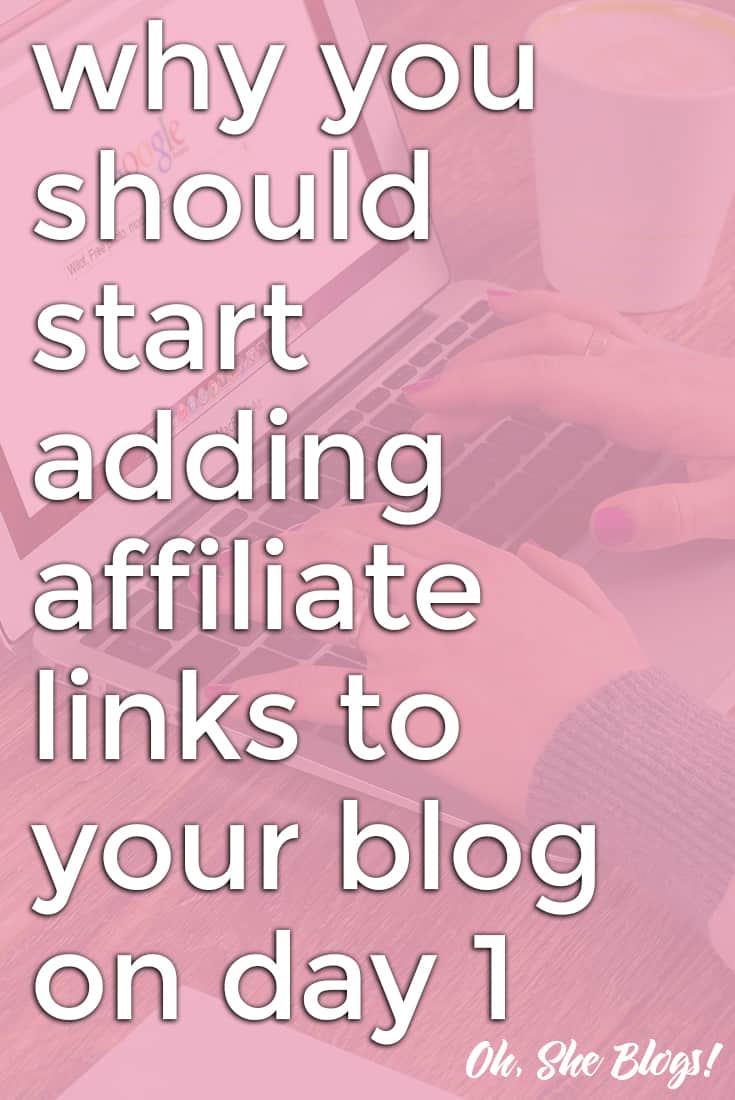 The question I've heard most frequently since launching this site is "when should I start adding affiliate links to my blog?" People generally want to know if they should wait a few months until they have more posts built up to dive into affiliate marketing and my response is always the same: No! You should start adding affiliate links to your blog on Day 1!
I know that may be overwhelming to hear, especially if you are a new blogger who is already learning the ropes of blogging, whichever platform you're using, social media, and everything else that comes with being a blogger. While you probably just want to launch already, here are a couple of key reasons why you should take some time to learn how to start adding affiliate links to your blog immediately.
Google juice
It's no secret that Google (and other search engines) rewards longevity, which means that over time your older posts may do better in search engines than newer posts. Let's say you wrote a post a year ago and suddenly that post is doing really well in search engines and bringing a lot of organic traffic your way. You're going to wish you had affiliate links in that post because otherwise you'll be missing out on the commissions that a spike in traffic may yield. Now that's just one post. Imagine if you had an entire year or two worth of posts that needed to be updated with affiliate links? You're really going to wish that you had started adding affiliate links earlier in the life of your blog because that level of updating will be incredibly time-consuming.
There's no need to wait
It may take a long time for advertisers and sponsors to find you or accept you into campaigns, but with affiliate marketing YOU are in control and you can literally make money on your blog from day one.
This may not be a big deal if blogging is just a hobby for you, but chances are you found this website because you want to make money blogging. If you want to monetize your blog, there's no need to wait. Get started now and enjoy the perks!
Practice makes perfect
Just like blogging isn't something you can learn overnight, neither is affiliate marketing. You'll need to figure out what works for you – and your readers – to start making money. Even if your first posts aren't among the best on your site, they do give you the opportunity to experiment with the type of posts you want to write, your voice, and the information you are going to present. Adding affiliate marketing into the mix will help you do the same. You will be able to see what types of posts and products your readers respond to and figure out a system that works for you.
Now, while I think you should start adding affiliate links to your blog immediately, what you absolutely don't want to do is create a blog that seems spammy and is nothing but a wall of affiliate links. So, if there's no natural way to add affiliate links to your first post, don't do it. I don't recommend ever adding links just to add them. However, if the content you are writing is conducive to adding affiliate links in a natural manner, don't wait!
One thing that you may find difficult is that not all advertisers want to work with new bloggers. When I first started out I wanted to be in Old Navy's affiliate program but they rejected me. I kept applying week after week until they finally let me in about six months later. Rejection is normal and try not to take it personally, especially if you're a new blogger. My recommendation is to start with Amazon Associates, as they accept pretty much anyone and they sell pretty much everything, and also register for Shareasale and look into some of their advertisers. Shareasale is a huge affiliate network, but they tend to work with a lot of smaller advertisers. Smaller advertisers are often willing to take a chance on new bloggers. Check out this list of the best affiliate networks for new bloggers for more ideas.
If you're new to blogging and the idea of figuring out affiliate marketing right now is too much, I encourage you to check out my six-part e-course, Affiliate Marketing 101. It will teach you the basics you will need to get started with affiliate marketing.
If time is a factor – as it is for many of us – then I encourage you to use a site like VigLink or Skimlinks, which will AUTOMATICALLY add affiliate links to your posts. All you have to do is install the script from one of those sites and any regular link you place on your site will be turned into an affiliate link without you needing to do anything else. You'll benefit from having affiliate links on your site immediately, although both of those companies do keep a cut of your earnings. Some bloggers like the convenience and only use VigLink or Skimlinks on their blogs, and that's OK! Money is money and there's no harm in using an easier system.
Do Tell: When did you start adding affiliate links to your blog?
If you prefer a visual format, I posted a Facebook Live video on this topic in our Facebook group last week. Want to join our Facebook group? Click here to register for our newsletter for access!

Lisa Koivu is the founder of Oh, She Blogs! A seven year blogging veteran, Lisa can also be found posting shopping deals and steals at
ShopGirlDaily.com
. In her free time (ha!) she is also a freelance writer who has written for About.com and U.S. News.

Latest posts by Lisa Koivu (see all)