Disclosure: This post may contain affiliate links, which means we may receive a commission if you click a link and purchase something that we have recommended. While clicking these links won't cost you any extra money, they will help us keep this site up and running! Please check out our disclosure policy for more details. Thank you for your support!
All affiliate networks are not created equal. If I'm being honest – which I always try to be – there are a couple that I don't like in large part because they the networks have unfriendly interfaces that make them tough to use. Plain and simple, the harder it is for me to get the links I need, the less likely I am to use the network. admitad is an affiliate network that is quickly making its way into the United States after establishing a large international presence. The affiliate network not only has an easy-to-use interface and great advertising partners, but admitad has also developed a few different tools that put them at the forefront of affiliate technology that will make things easier for affiliate marketers both new and old.
I'm guessing this is the first time many of you will have heard of admitad, but they're already working with more than half a million publishers and hundreds of advertisers! While they're fairly new to the U.S. market, this is an established cost per action (CPA) network that's working with some big brands.
Everything You Need to Know About admitad
There's certainly no shortage of affiliate networks, which I know can get confusing. That said, I really do recommend that bloggers join every affiliate network that they can, primarily for two reasons:
Sometimes a program is exclusive to one network. If you want to work with a program, you're going to have to join the network.
Programs frequently change networks. It's less of a hassle to track these changes and switch out your links (using an affiliate link cloaker) if you've already joined the network to where the program is migrating.
Thus, while you might be thinking, "another affiliate network?!" I highly recommend joining admitad. There's no downside to it and you might find that you like the network more than others.
There are a lot of perks to admitad, but without getting too techy, globalization is really big in affiliate marketing right now. Some networks were founded with only the United States in mind, and now those networks are coming up with game plans in order to work with the rest of the world. For instance, this is a big part of why ShareaSale said they merged with Awin last year. Awin had the global presence that ShareaSale craved. Because admitad first launched in Germany and is adding the United States as a partner later in its journey, they've already got the international thing down. This may not seem important now, but perhaps you will develop an international readership or already have one? Programs that work outside of the United States will be important to ensure that you can get paid for all of your readers' purchases, and not just the U.S.-based traffic.
Getting Started with admitad
If I've convinced you that admitad is worth checking out, here's a quick outline of what you need to do to start using admitad ASAP so that you can make more money from your blog!
Registration
Like all of the other affiliate networks (excluding the subaffiliate networks like RewardStyle), registration is a two-step process. First, you must set up an account with admitad. That part literally takes just a couple of minutes. Once your account is set up, you can start browsing the advertisers who have partnered with admitad.
Merchants Partnering with admitad
While admitad works with many merchants around the globe, here's a quick rundown of just some of the merchants that are a great fit for U.S. bloggers:
Target (no explanation necessary!)
AliExpress (one of the world's largest stores – they sell everything)
Shein.com (affordable fashion and a favorite of many fashion bloggers)
BarkBox (subscription box for dog lovers)
Light in the Box (another huge store selling a little bit of everything)
Booking.com (perfect for travel bloggers)
ASOS (a must-join for fashion and lifestyle bloggers)
Forzieri (luxury fashion)
Minecraft (admitad has partnered with quite a few online games, which isn't something I've seen in many other affiliate networks)
The Children's Place (style for little ones)
Too Faced Cosmetics (beloved beauty company)
Shutterstock (a popular stock image company that's great for bloggers)
Finding the Right Affiliate Partners for You
One thing I really love about admitad is the many different ways you can search for partners. Because admitad is an international affiliate network, you can search by country (which I know will make some of you quite happy). You can also just view the programs that auto-accept partners, meaning that you don't have to apply and wait for approval. You can apply and immediately start putting links on your site!
Tip: When looking for partners, I highly recommend filtering by your region, otherwise you may see a lot of programs that don't apply to you.
Applying to Programs
Once you find a program that interests you, admitad makes it easy to get all of the information you may need to see if they'd be a good fit. The things I pay the most attention to are the approval rate (this is not important at all, really, but I like knowing this), the conversion rate (CR), whether or not the company has a product feed, the length of the cookie and, of course, the commission rate.
Joining a program takes just three clicks. For the first click, you'll press the "join" button.
For the second you'll agree to the terms and conditions. As for the question, "How will you promote the affiliate program?" you actually filled this out with your admitad registration and it gets filled in automatically with each application you submit. Finally, hit the "join" button again.
Now, unless you're applying to work with an auto-accept partner, you just need to sit back and wait for them to approve your application.
Placing admitad links on your blog
It's easy to add admitad's affiliate links to your blog and there are a couple of different ways you can do it.
If you want a generic link leading to a brand's homepage, you can grab the Default Affiliate Link.
While default links definitely have their purpose, you should aim to use deeplinks as frequently as possible. A deeplink is a link that points directly to the item you are writing about. For instance, if you're writing a post about handbags at SheIn, you'd want to link directly to each bag and not just to the SheIn homepage. The link you create to each individual item is a deeplink.
admitad makes it incredibly easy to create deeplinks. To create one, just go to the advertiser whose link you want to create, click on the "Deeplink" button on the left side of the page.
Next, copy the URL to the page where you'd like to direct a deeplink.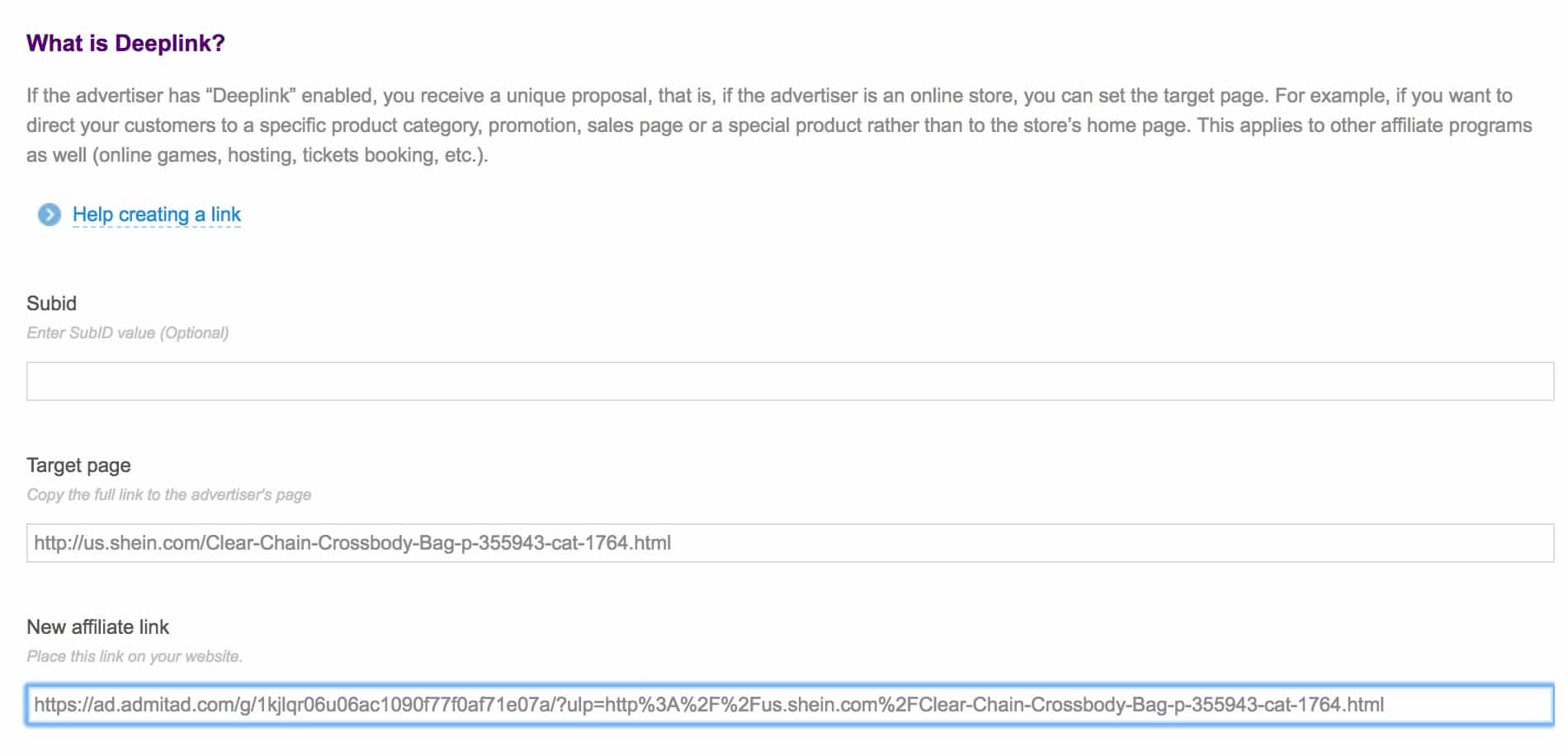 Take that URL back to the admitad interface and paste it into the "Target page" box. Just like that, your new deeplink will appear just under that in the "New affiliate link" box.
Adding a deeplink to your blog is simple. Add the text or image to your site that you want to use.
Grab the deeplink from admitad, attach it to your image or text, and you're good to go. I recently wrote a post about Stadium Purses (it's super important to have one if you plan on attending a NCAA or NFL football game this year) and included a couple of bags from one of my admitad partners, SheIn. All told, it took approximately 30 seconds to create deeplinks to the bag I posted about and get them posted on my site. I bet I could have done it even faster had I installed admitad's Google Chrome extension before beginning the post!
Earnings Reports
admitad's earnings reports are clear and easy to read. The most important things you'll want to pay attention to are the order amount (of course), your earnings (of course), and the processing date. Nearly all affiliate programs place a hold on commissions until the last day the customer can return his or her items because your commission will decrease if anything is returned. I've never seen another affiliate network so clearly spell out the date that your commission will be approved. Finally, one additional piece of information I like seeing in the earnings report is the conversion time. This tells you exactly how long it took someone to initially click the affiliate link in your post and then eventually make a purchase. it has been interesting to see just how many people don't immediately make a purchase but will come back to it either later in the day or at a later date altogether.
Thoughts on Usability
Once you're accepted to admitad and begin working with their partners, adding their links to your site is as easy as can be. As I've said, some affiliate networks are more esoteric than others, but admitad is one that has made publisher usability a priority. When an interface is easy to use, it makes you more likely to want to use the network. The more you share the links from a given network on your blog, the more likely you are to make money. So, what I'm ultimately saying is that admitad has made it as easy as possible for bloggers to make money blogging using their platform. Score!
Perks to Using admitad
There are plenty of reasons to use admitad, but here are a few of my favorite aspects of this affiliate network:
Use Moneylink to automatically convert the links on your blog into affiliate links – this is a lot like what Skimlinks or Viglink does, except here admitad will do it using your own affiliate links so that you won't lose any of your commission
The admitad Google Chrome extension will allow you to create deep links quickly and easily from your browser, without needing to log into the admitad interface
admitad has a mobile app – something which all affiliate networks desperately need but few networks actually have
Minimum payout amount is $20 – most networks make you wait until you reach $50 to cash out, which can sometimes take awhile
Payment can be made on a weekly basis, so if you meet the minimum threshold you don't have to wait for the next pay cycle to come around. You can get paid the very next week!
There are quite a few more perks where these came from, all of which make admitad one of the most publisher-friendly affiliate networks I've come across.
More Partners Are Needed
I've been using admitad for a few weeks now and while admitad is already working with some good U.S. based partners, the list is still fairly limited so I look forward to them adding more. As admitad becomes more of a name brand in the United States, I expect to see their list of partners explode.
Final Thoughts
admitad is just now expanding into the U.S. market and I'm excited to see how they'll expand. They've already got a better platform than quite a few of the other affiliate networks, and the tools and perks they offer publishers are top notch. As soon as they increase the number of U.S.-based brands they work with, I wouldn't be surprised to see this become one of the top affiliate networks in the United States.
Click here to get started with admitad.

Lisa Koivu is the founder of Oh, She Blogs! A seven year blogging veteran, Lisa can also be found posting shopping deals and steals at
ShopGirlDaily.com
. In her free time (ha!) she is also a freelance writer who has written for About.com and U.S. News.

Latest posts by Lisa Koivu (see all)