Disclosure: This post may contain affiliate links, which means we may receive a commission if you click a link and purchase something that we have recommended. While clicking these links won't cost you any extra money, they will help us keep this site up and running! Please check out our disclosure policy for more details. Thank you for your support!
There are many ways that you can make money from your blog, but the hot social media network of the moment is Instagram and the question on many minds is: "How can I make money from Instagram?" No wonder, right? You share your life on Instagram. You share your outfits, what your kids are wearing, what your dog is doing, what you're eating, what you're buying, where you're traveling… so it'd be nice to make a little extra money in exchange for your efforts, right?! As we all know, the powers that be have not made it particularly easy to make money on Instagram (thanks, no clickable links in captions!), but there are plenty of ways to get around this limitation.
Ready to start making a few extra dollars from all of the items you're recommending to your Instagram followers? Read on!
How to Make Money from Instagram
Affiliate Links
Instagram allows you to have one clickable URL in your profile and it's not uncommon for bloggers to change that to whatever her new blog post may be. There are a few other ways you could make use of this link, however. For instance, you could post an affiliate link there. Since that may not be ideal, there are a couple of companies that make it fairly easy for you to use affiliate links on Instagram, which will then allow you to make money from Instagram by allowing people to shop the products you were already going to promote anyhow!
My favorite of all of these companies is Link in Profile.
Link in Profile costs $9.99 per month and is super easy to use. Here's how to use Link in Profile:
Register for an account and place your personalized link as the one clickable link in your Instagram profile, like I did above.
Instagram like normal! Include a URL in the posts where you would like to direct your readers somewhere. In the middle image I linked to a USA Today article, but typically I use affiliate links. So, for instance, if you wanted to share a dress from Amazon you would grab your Amazon affiliate link for that dress and place it in your image caption somewhere.
When your Instagram followers click the link in your profile they will see an aggregate page full of your images where you have included a link in the caption. When they click on the image that interests them they will automatically be directed to wherever the link that you placed in your caption leads… including affiliate links!
My Plus Size Style Watch account is full of plus size fashion finds and typically the link I place in the caption is where someone would need to go to purchase whatever it is I'm featuring. I usually use an affiliate link for this, so I will receive a commission if anyone purchases any of the items in my Instagram feed!
Another option for placing affiliate links in your Instagram feed is Stylinity. While Stylinity is a good free option, I don't think it's as intuitive as Linkinprofile.
ShopStyle.it
If you are a member of ShopStyle Collective – and I highly recommend it as one of the first affiliate networks lifestyle bloggers should join – then you can use their tool, ShopStyle.it to make money from Instagram!
To use, you will want to create a list of items within ShopStyle that is unique to every picture on your Instagram feed. Lists can include what you wore on a given day all the way through furniture and decorating items. Using the ShopStyle app you will then be able to add a link to the appropriate list to your photo caption. Your followers that register for a ShopStyle.it account and then like your photos will receive an email containing the items that appear in each post (i.e. the items that you included in the list you made).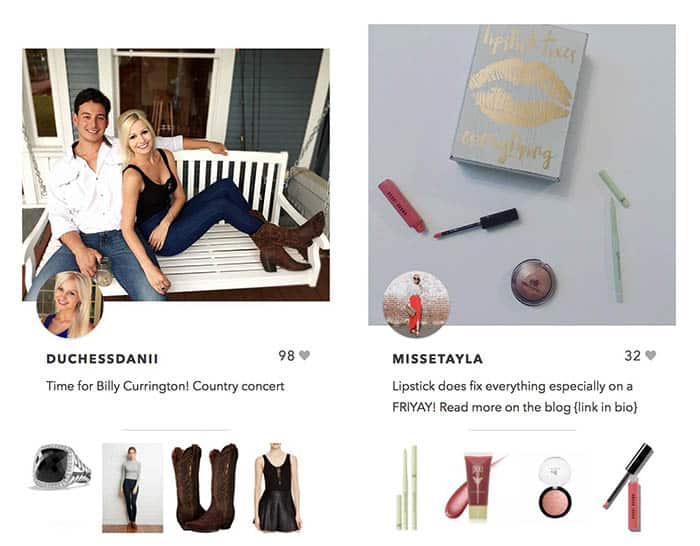 The email that your followers will receive from ShopStyle is pretty similar to the examples above. If they like your photo they will receive an email that contains your Instagram photo, as well as all of the items that correspond to that photo that you put in your list.
One thing to remember about ShopStyle is that it is a cost per click network, meaning you make money every time someone clicks one of your links – even those included in the email! Getting your affiliate links in front of your fans like this could lead to you making a lot of money from your Instagram account quite quickly!
ShopStyle Collective's Looks and Collections
Hot off the presses, ShopStyle Collective has launched ANOTHER tool that will help you make money from Instagram, Looks and Collections. Looks and Collections actually works very similarly to Link in Profile, although there are two key differences:
You must be a member of ShopStyle Collective to use it
It's FREE
Luckily, ShopStyle Collective is one of the easiest affiliate networks to join, so within a matter of minutes you could be on your way to using this new Instagram monetization tool.
(Image via the ShopStyle Collective blog)
Like Link In Profile, you place a special link in your Instagram profile that directs your followers to a page on your blog that contains all of your looks. Yes, you read that correctly: This tool still directs traffic to your blog and straight to all of the looks you've been sharing! Your followers can then quickly browse your looks and click on any items that interest them.
LIKEtoKNOW.it
LIKEtoKNOW.it is very similar to ShopStyle.it, except that it is run by RewardStyle. RewardStyle is pretty exclusive about who they let into their network, so being able to use this site to make money from your Instagram account is far from a sure thing. However, if you are a member of RewardStyle, I highly recommend checking out LIKEtoKNOW.it, as they have a very easy format for monetizing your Instagram account.
Sponsored Posts
Sponsored posts are considered the holy grail for those wishing to make money using Instagram. Those who have large followings are frequently reported to be making tens of thousands of dollars for just one picture. Kendall Jenner allegedly makes $120,000-$300,000 for one photo and her big sister Kim Kardashian is said to make even more! Can you even imagine?!
Of course, the thing about raking in the big bucks from sponsored Instagram posts is that you need to have a large following. I've seen it suggested that people start making money from their Instagram accounts when they get into the 5,000-10,000 follower range. If you're currently shy of those numbers, check out these tips for growing your Instagram following as well as the InstaRevealed Guides. I guarantee that between those two sources you will be growing your Instagram following and on your way to being approached about sponsored posts on Instagram in no time!
Tips for getting sponsored Instagram posts:
Put your email address in your Instagram profile! Nobody will reach out to you if you don't make it easy for them to do so.
Followers are one thing, but advertisers are also looking for ENGAGED followers. Getting likes and comments on your photos will show advertisers that your followers look to you as a tastemaker. The way to get likes and comments is to engage with your followers, both on your account and on theirs. Make them want to interact with you!
Have a clean feed with good, crisp photos.
Reach Out to Companies
Much like bloggers reach out to public relations companies and to brands directly, you should also reach out if you have a particularly robust Instagram following and/or there's a brand with whom you would like to partner! Don't be afraid to reach out to brands! Provide them with an idea of what you might do for them as well as your rates. The worst thing that happens is they say no.
Instagram Influencer Agencies
While you can wait for companies to come to you or you can reach out to companies yourself, another option is to work with an Instagram Influencer Agency, whose sole purpose is to partner influencers (that's you!) with advertisers.
Just a few of the agencies you might want to apply to include Izea, Hype Market, Popular Pays, and Snapfluence.
Be sure to register for our email newsletter to receive our list of 90+ companies that will help you make money from your blog and social media accounts. That list contains even more influencer agencies!
Sell Your Instagram Photos
If your friends are always telling you how amazing your Instagram photos are, then perhaps you might want to look into selling some of your images! Some companies may sell your digital images as stock photos while others will turn your images into prints. While this may not be how you thought you would make money from Instagram, this is still an excellent way to do so, especially if you have a collection of photos and you only end up using one on your own feed!
Two of the places where you might sell your Instagram photos include:
A Combination Approach
Personally, I recommend taking a combination approach when you're thinking about how to make money from Instagram. What I mean is that you don't just have to use one of these methods. Go ahead and use affiliate links, but then also keep an eye on all of the influencer networks to see if there is anything that catches your eye. If you have the time, reach out to companies with whom you would like to partner.
The most important thing if you want to make money from Instagram? Don't just sit back and wait for people to come to you. Be proactive and advocate for yourself!
While it's not as intuitive as making money from blogging, those wanting to know how to make money from Instagram will find plenty of options! While I like making money as much as the next person, before you begin trying to make money off Instagram I highly recommend spending some time building up your follower base and creating a beautiful feed. Doing both of these things will only help you in the long run, in terms of being able to work with more prestigious brands and – hopefully – making more money per post!

Lisa Koivu is the founder of Oh, She Blogs! A seven year blogging veteran, Lisa can also be found posting shopping deals and steals at
ShopGirlDaily.com
. In her free time (ha!) she is also a freelance writer who has written for About.com and U.S. News.

Latest posts by Lisa Koivu (see all)