Disclosure: This post may contain affiliate links, which means we may receive a commission if you click a link and purchase something that we have recommended. While clicking these links won't cost you any extra money, they will help us keep this site up and running! Please check out our disclosure policy for more details. Thank you for your support!
Obviously we love blogging around here. I think blogging is an excellent way that women (and men) can make extra money. Once you have a blog you can start using affiliate marketing to make money blogging, but you can also go the route of using techniques like traditional advertisements and sponsored posts. Starting a blog is a great way to start building a side income.
If you are ready to start a blog, the first thing you will need to do is find a host. Web hosting is essential because it is basically where your blog lives on the internet. Some people choose to run their blog through Blogger, in which case Blogger is the host. Others choose sites like Wix, Weebly or SquareSpace. If you want to have a self-hosted WordPress blog, however, you will need to find your own hosting service.
I think I made my feelings on Bluehost pretty clearly the other day (hint: Bluehost sucks) so I wanted to talk about one web host that I do highly recommend to new bloggers: SiteGround*. SiteGround not only offers fantastic hosting, including easy WordPress hosting, but the company also has wonderful customer service, and their prices are very reasonable. If you want to start a WordPress for cheap, SiteGround is a really great option. (SiteGround typically costs just $3.95 per month for their beginner plan, although they do occasionally go below that price, and you can lock in their rates for up to three years!)
In addition to being an affordable web hosting service, SiteGround also makes it SO easy to launch your blog! In fact, it is entirely possible to start a WordPress blog on SiteGround in under 10 minutes.
Seriously.
I know because I've done it myself. Check out the video at the bottom of this post. While it is slightly longer than 10 minutes long, I do quite a bit of talking and that slows down the process.
If you're a new blogger in search of hosting, I highly recommend getting set up with SiteGround. I've heard very few complaints about this company and I am really liking what I am seeing from them!
Are you ready to start blogging? Follow my SiteGround tutorial below and you'll be able to write your first post just a few minutes from now.
Start a WordPress Blog on SiteGround in Under 10 Minutes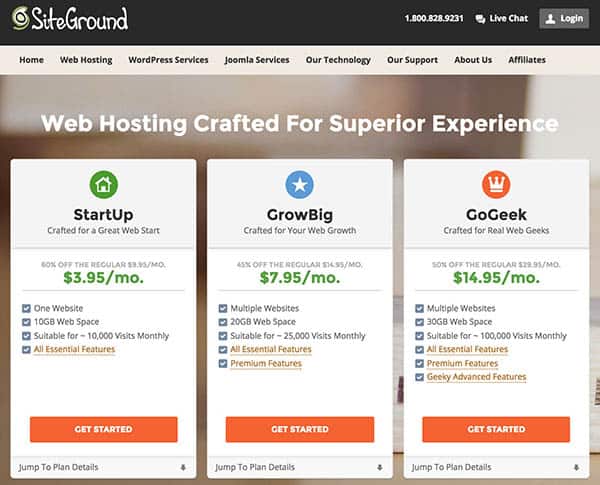 1. Choose a Hosting Plan
First things first, you have to head on over to SiteGround and choose which hosting plan would work best for you. If you're not sure which plan to pick, consider these guidelines:
The StartUp Plan is perfect for people with one website that you are just launching. You get 10GB of space and it is ideal for those receiving less than 10,000 visits per month.
The GrowBig Plan is a really great value as it offers the option of creating multiple websites on your hosting account and you get WordPress SuperCacher that greatly improves WordPress and Joomla website speeds. This plan comes with a basic backup and restore service. You get 20GB of space and it is ideal for those receiving less than 25,000 visits per month.
The GoGeek Plan is perfect for people with e-commerce and larger sites, or need things like staging and GIT integration. You can host an unlimited number of sites with this plan. This plan comes with a premium backup and restore service, including a manual restoration by the SiteGround team.You get 30GB of space and it is ideal for those receiving less than 100,000 visits per month.
My recommendation is to start with the cheapest plan, the StartUp Plan. You can always scale up when your site grows and you find you need more space.
2. Choose a Domain Name
Once you have picked out a plan, it's time to register a domain name. Of course, I highly recommend taking the time to come up with the perfect blog name long before you get to this point. Naming your blog is definitely not something you will want to wing!
You can register a new domain through SiteGround for $14.95, or you can transfer one over for free when you begin the registration process. I typically purchase my domains through Namecheap.
3. Enter Your Information
Once you've chosen a hosting plan and decided on a domain name it is time to enter all of your important information.
4. Choose Your Initial Plan Length + Extras
You can choose how long you would like to pre-pay for SiteGround's hosting services at the introductory rate and can lock in the rate for up to three years. Honestly, this is a great option that most hosting services don't offer. With most hosting services you can lock in the introductory rate for one year and then the price rises substantially. The only downside to this is that you have to pre-pay for all of those years up-front, which can be pricey.
In addition to choosing the length of your initial contract, you can also choose any extras, such as Domain Privacy for $12 per year or SG Site Scanner for $19.80 per year.
Domain Privacy will make it so that your personal information – like your address and phone number – don't show up when people look at your domain information. Domain information is public so without Domain Privacy people can easily get hold of private information about you. SG Site Scanner monitors your website and lets you know if you have been hacked.
Neither of these services is a necessity, but if you were going to get either I'd go with Domain Privacy.
5. Account Created!
Once you pay the final bill your account will be created and you, my friend, will be the proud owner of web hosting and a domain name. Now we just have to get you set up with WordPress!
6. Begin the SiteGround Account Setup Wizard
Believe it or not, this is where things start going very quickly! SiteGround will actually prompt you to setup and install your new WordPress blog immediately and it takes just a few minutes using the SiteGround Account Setup Wizard. If you've been worried about how to install a WordPress blog, I promise that you need not worry any longer!
The SiteGround Account Setup Wizard is actually the main reason why I recommend this as one of the best web hosts for new bloggers. It makes it SO easy to install WordPress.
To get started, choose the "start a new website" option and hit Proceed.
7. Website Preferences
In this screen, you will just want to indicate the type of blog you're setting up, as well as the platform you'd like to use. I obviously recommend WordPress since this tutorial is about how to start a WordPress blog on SiteGround. I don't know a thing about the other options!
8. WordPress Log-In Details
Since you chose WordPress on the previous screen, the SiteGround Account Setup Wizard will go ahead and install that on your server, but first, you need to set up your log-in information.
Hackers spend a lot of time trying to hack their way into blogs. For this reason, come up with a username that isn't particularly obvious. For instance, I don't ever just use my name as my username. Likewise, ABC123 would be a terrible password.
9. Choose a Web Design Template
SiteGround gives you the option of choosing a free web design template that they will install at the same time they install WordPress on your server. This is pretty awesome!
Changing your template isn't particularly difficult and there are thousands of free ones available, but typically you only get one standard theme installed when you set up a new site. Maybe you'll get lucky when you browse the options provided by SiteGround and find one that you absolutely love!
10. Access Your New Site and Start Blogging
Just like that, you are done. You have actually gone through the process of starting a new WordPress blog on SiteGround in under 10 minutes… and you did it all on your own! To access your new blog you will want to go to http://yournewdomain.com/wp-admin, filling in your domain, of course. Then just enter your log in information and behold your new WordPress dashboard!
SiteGround's easy-to-use interface makes it so that you won't need to hire a tech-savvy person to get your site set up. Doing it yourself is easy and basically fool-proof. You have to pay for hosting, but you were otherwise able to setup a WordPress blog for free. Way to go!
However, if you're feeling a little lost or you have any questions you needn't worry: SiteGround will call you the next day to see if you need any help! How's that for customer service?!
I have worked with quite a few hosting companies, but I can honestly say that SiteGround is one of the best WordPress hosting companies that I have encountered. I highly recommend them if you want to start a WordPress blog for cheap, and you also want a reliable web host with good customer service. I truly think SiteGround is the best web host for new bloggers.
Prefer video? Here's How to Start a WordPress Blog on SiteGround… in video form:

* For transparency's sake, please note that I do not personally use SiteGround. I use BigScoots, which I also love and would recommend except that it is $$$$$ and I don't recommend paying that kind of money until it's a necessity! I do help others set up new blogs, however, and SiteGround is the site I always recommend and show them how to use, so I do have quite a bit of experience with the company.

Lisa Koivu is the founder of Oh, She Blogs! A seven year blogging veteran, Lisa can also be found posting shopping deals and steals at
ShopGirlDaily.com
. In her free time (ha!) she is also a freelance writer who has written for About.com and U.S. News.

Latest posts by Lisa Koivu (see all)