Disclosure: This post may contain affiliate links, which means we may receive a commission if you click a link and purchase something that we have recommended. While clicking these links won't cost you any extra money, they will help us keep this site up and running AND keep it ad free! Please check out our disclosure policy for more details. Thank you for your support!
The holidays are just around the corner, which means many of you are either working on gift guides or have already published them. While you've been searching for the perfect gifts to include on your own guides, have you stopped to think about what to include on your own personal wish list?
When it comes to blogging, I'm a firm believer in two things:
Blogging need not be expensive. You don't need to go out and invest in the best of everything before you've ever typed a word. Nor do you need a DSLR camera to take good photos. I promise that you won't magically write better if you buy a Mac. What you need is a good work ethic and the confidence to believe you're good at what you're doing, even on days when people don't leave comments or make purchases via your affiliate links.
While blogging shouldn't be an expensive hobby, when money allows I do recommend investing in books, courses, and other small tools that will teach you new skills and/or make some aspect of your site seem more professional.
With these two beliefs in mind, I put together this collection of gift ideas for bloggers. These are the items I recommend adding to your own wish list or treating yourself to as a special holiday bonus.
16 Gift Ideas for Bloggers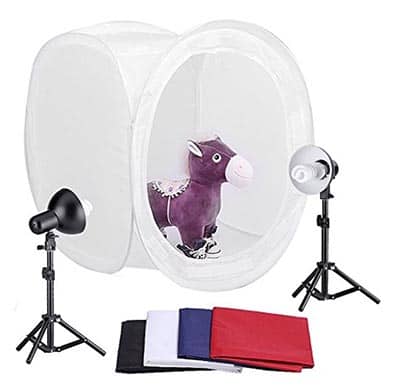 They always recommend shooting your blog photos using natural light but depending on a number of things, like where you live or your working schedule, this may not always be possible. Our apartment basically has no natural light and I take a lot of product photos, so purchasing a photo tent with studio lights is one of the best blogging investments I have made. With a tent like this (and I highly recommend getting one that comes with the lights), I can consistently take great pictures.
I have a DSLR and numerous other cameras, but since getting this photo tent 100 percent of my photos are taken with my iPhone.
Check it out: Neewer 30″/76cm Photography Shooting Tent Kit – $39.99 at Amazon
One of the questions I am frequently asked is "how do I get more traffic to my blog?" That's a complicated question to answer quickly but Lena Gott's book, 17 Strategies I Used to Increase My Page Views: From 17k to 350k+ Each Month, does a great job of tackling this topic and providing easy-to-follow and actionable tips that will help you start growing your blog traffic. She shows specifically what has worked for her and clearly shows you how you can replicate her success.
Check it out: 17 Strategies I Used to Increase My Page Views by Lena Gott – $25
Do you NEED a motivational mug? Absolutely not.
But let me tell you: There will be days that this mug will be the best thing about the day, either because of the (presumably) caffeinated beverage it contains or because of the message that reminds you to keep going.
I can't say this enough: Blogging is hard work. You are going to need something small to remind you to keep going on the hardest of days and bring a smile to your face on the easier ones.
Check it out: Hustle Hard Mug – $14.99+ from Rose Gold Rebel (Etsy)
There are a lot of books out there that will teach you how to be a better blogger and how to make money blogging, but I think this particular book, How to Blog for Profit Without Selling Your Soul by Ruth Soukup, is one of the absolute best. I purchased it on the day it came out in 2014, and to this day it's one of the best blogging books I've read. The main reason I love this book? It provides concrete examples and actionable steps that are easy to replicate regardless of how long you have been blogging.
If you're not familiar with Ruth Soukup, she's the blogger behind LivingWellSpendingLess.com and also the founder of Elite Blog Academy.
Check it out: How to Blog for Profit Without Selling Your Soul – $13.59 (paperback) / $9.99 (kindle) from Amazon (you can also download it for free with a KindleUnlimited subscription)
If you're using your cell phone as your main camera or video camera, then I highly recommend investing in a cell phone tripod to help keep things steady. I don't do many Facebook Live videos, but the last time I did it was maybe 7 minutes long and looked like I was standing in a windstorm because my arm got tired of holding the phone and it started shaking. Yikes. This tripod really would have come in handy so that I could film a more professional-looking video!
The great thing about this particular tripod is that it can stand upright but you can also wrap the legs around items when you need a little more flexibility. For instance, maybe you want to hang the tripod from a pole or the top of the TV. I also love that this tripod comes with a remote, which is absolutely fantastic for selfies! Speaking of selfies, push the legs together and you've also got yourself a quick selfie stick!
Check it out: Octopus-style Cellphone Tripod with Universal Clip and Remote – $11.99 at Amazon
There are tons of social media schedulers out there and I use a few of them but if I had to suggest just one scheduler that does more than all of the rest I would recommend MassPlanner. For $9.95 per month, you can completely automate your posting to Facebook, Google+, Twitter, Pinterest, LinkedIn, Instagram, and Tumblr. It's an absolutely amazing program that I consider to be my personal assistant.
The downside to MassPlanner is two-fold: It's Windows-based so you'll need a Windows-based computer or access to a virtual private server (VPS). That may sound intimidating but MassPlanner walks you through setting up a VPS for free. The other downside is that there's a pretty extensive learning curve. I describe the program as being written by engineers for engineers because it's not particularly intuitive. BUT, once you get it up and running, I promise there's no better social media scheduler on the market.
Check it out: MassPlanner – price starts at $9.95 per month, or you can save big by pre-paying for six months
Melyssa Griffin's Pinfinite Growth course is by far the most expensive item on this list, but I also think it's the most invaluable. It was this course that completely changed the way I viewed and used Pinterest and allowed me to drastically grow my account over the past year. As a blogger, more followers on Pinterest directly correlates to more blog traffic which can mean more money.
As I note in my Pinfinite Growth review, the one area I differ from Melyssa is that she strongly recommends Board Booster and I much prefer Tailwind, but I think that's more of a personal preference. With the purchase of Pinfinite Growth you will receive 100 free days of Board Booster, so you can try it out to see which program you prefer. (Tailwind also offers a free trial, as noted below.)
Check it out: Pinfinite Growth – $397 (or five monthly payments of $87)
I love MassPlanner, but my second favorite scheduler is Tailwind. Pinterest is one of the biggest drivers of blog traffic for many bloggers and Tailwind will help you take your account to the next level.
Tailwind lets you schedule pins from your own blog, across the internet, or even directly from Pinterest, and will repin at the times that are maximally beneficial for your audience. You can also easily repin any of your pins that are doing really well. Plus, the analytics are amazing! Since taking Pinfinite Growth and signing up for Tailwind about a year ago, I've seen my Pinterest followers go from approximately 300 to nearly 10,000.
Check it out: Tailwind – schedule 100 pins for free, then pricing starts at $9.99 per month
Y'all know how much I love free stock photos, but considering this is a list of gift ideas for bloggers, I'd be remiss to not include a subscription to a stock photo site.
There is absolutely nothing wrong with using free stock images. But if you want to upgrade your blog and make it stand out from the rest of the blogosphere, purchasing stock images can be one way to do this. There are a few free images that are so oversaturated at this point that I think they should be retired but that's not a problem if you have a stock photo subscription! A paid subscription will also open you up to so many different photo options that can help create a specific feel for your site based on the photos you choose. (My favorite tip? Search for photos by photographer! There are a few different photographers whose styles I love, so I always look for their newest photos first.)
Check it out: There are a couple of companies from which I have purchased stock photos in the past, including iStock and Bigstock – prices vary depending on the plan you choose
If you're planning on attending any blogging conferences or blogger meet-ups in the coming year, professional business cards can be a great option to add to your blogging wish list. They're great to hand out to fellow bloggers, but they're especially ideal if you'll be meeting with any potential partners and/or advertisers!
Check it out: I prefer the cards from Moo.com (and they frequently offer discounts via sites like Gilt City), but you can get business cards from almost anywhere
After years of talking about it, late last year I finally decided to take the plunge and start Oh, She Blogs! The main inspiration for FINALLY getting my act together? Lara Casey's PowerSheets One-Year Intentional Goal Planner.
This LARGE planner will walk you through goal-setting exercises, and also help you follow through with those goals. There are myriad worksheets, stickers, quotes, and a 12-month dated monthly workbook. This is a truly gorgeous and sturdy guide that will help you bring your blogging goals front and center in the new year.
Check it out: PowerSheets One-Year Intentional Goal Planner – $55
By and large, most free WordPress plugins are just fine. If you're going to splurge on any one plugin, however, I highly recommend making it Social Warfare.
With this plugin, you can quickly set up social sharing icons that actually match your site, but my favorite aspect is that you can hide specific Pinterest and social media images within the post, and whenever someone clicks the "share to Pinterest" button, they will actually share the image you want and not just any random image from within the post. Social Warfare also gives you the "click to tweet" option that you can embed within any post. Finally, unlike some other social sharing plugins, Social Warfare is the only one I've found that doesn't slow down any of my sites.
Check it out: Social Warfare – $29 per year
There's seriously nothing worse than attending an event only to have your phone die in the middle of it. As bloggers, our phones are often the most important things we carry with us on a daily basis!
The only way to protect against batteries that will inevitably die at inopportune times is to invest in a portable phone charger. This particular one, the iMuto 10000mAh Mini Portable Charger, is nice because it lets you charge two devices at once and can charge an iPhone a full four times before it needs to be recharged again.
Need even more of a charge? Get the 20000mAh charger and charge your iPhone EIGHT times!
Check it out: iMuto 10000mAh Mini Portable Charger – $21.99 at Amazon
One of my very favorite blogging-related purchases this year was this e-book, Dominate the Search Engines Using Webmaster Tools by Kelli Miller and Crystal Vantassel-Lopez. I consider a book to be worthy of recommendation when it provides copious details about what works or doesn't work and when the authors give step-by-step instructions for what you can do to replicate their success. This book has that in spades.
Google Analytics has always been a bit of a mystery to me, but this e-book breaks it down into conquerable nuggets of information – there are 30 different short lessons targeting different aspects of the data provided by Google Analytics – and in no time you will be putting those analytics to work for you and enjoying increased traffic to your site.
Check it out: Dominate the Search Engines – $59.99 from Learn to Blog Hangouts
Over the course of writing this list of gift ideas for bloggers, I realized the one blogging-related gift that I'd really like to receive this year is a Jaaxy subscription. There are a lot of keyword tools out there – many of them free – but I think Jaaxy is by far the easiest to use and understand.
While there are many different tools you can use to get your blog posts in front of readers, including Facebook sharing groups and Pinterest and other social media sites, I always recommend taking the time to employ good search engine optimization to every single post you write. Pinterest could go under tomorrow, but good SEO will never fully fail you. Jaaxy makes it as easy as possible to ensure that you're targeting the right keywords to draw traffic to your blog.
Check it out: Jaaxy – free trial includes 30 keyword searches, then prices start at $19.95 per month
Add a fancy bottle of bubbly to your holiday wish list and use it to toast the end of this amazing year or the start of what I know is going to be an amazing new year for you. OR, hold on to the bottle and use it to toast your accomplishments at the end of next year!
I personally love this bottle of fancy glitter sparkling wine, but your beverage of choice will suffice just fine. Regardless, ring in the new year on the right foot, look forward to the year ahead, work hard, and remember to celebrate all of your accomplishments both along the way and at the end of the year. Blogging is hard work so getting through another year of it is something to be commended!
Check it out: Onehope Rainbow Glitter Edition Brut Sparkling Wine – $59
Whether you're looking for an inexpensive treat or something splurge-worthy, my hope is that this list of gift ideas for bloggers provides you with some ideas to help get the juices flowing.
Join the List!
Register now and you will get access to our EXCLUSIVE (and free!) list of 100+ companies that will help you make money from our blog. You'll also be able to join our private Facebook group and receive the occasional email update.
Win-win-win!

Lisa Koivu is the founder of Oh, She Blogs! A seven year blogging veteran, Lisa can also be found posting shopping deals and steals at
ShopGirlDaily.com
. In her free time (ha!) she is also a freelance writer who has written for About.com and U.S. News.

Latest posts by Lisa Koivu (see all)