Disclosure: This post may contain affiliate links, which means we may receive a commission if you click a link and purchase something that we have recommended. While clicking these links won't cost you any extra money, they will help us keep this site up and running! Please check out our disclosure policy for more details. Thank you for your support!
Black Friday is the biggest shopping day of the year. Retailers tend to offer huge discounts and many people head out to the stores (or shop online) in hopes of snagging the best deals on their holiday gifts.
I'm not going to lie: I typically use Black Friday as an excuse to stock up on things that I know I NEED because I don't want to be pressured into buying extra junk just to snag a discount or get something for free. I don't skimp on gifts; I just don't typically go gift shopping on Black Friday.
If you're anything like me and want to treat yourself to something fun over this long holiday weekend, I found a slew of blogging-related deals that are definitely worth checking out. Of course, while I think blogging tools are fun, don't forget that they can also be used as business expenses come tax season! Whether you're looking for a new web host, want to learn more about SEO, or want to automate more of your work from this point forward, here are some Black Friday deals for bloggers you won't want to miss.
I will be adding to this list continuously in the days ahead, so be sure to check back regularly for updates!
Black Friday Deals for Bloggers in 2017
It's time to make sure Google knows your blog is there! Through Cyber Monday, my course, Introduction to SEO for Bloggers, is on sale for just $15 (normally $27.99)!
Promoting your blog posts via social media is great and something you should obviously be doing. But in order to start generating organic traffic, all bloggers NEED to know the basics of search engine optimization (SEO). Knowing and using SEO won't change the way you write; instead, it's a template that will enable BOTH your readers and the search engines to process your content.
My course teaches you all of the components you need to start making SEO a regular part of your blogging process, including how to optimize every blog post, how to do keyword research, how to build backlinks to your blog, and how to use Google Search Console.
The course is in-depth, but quick, and breaks things down in such a way that takes the mystery out of SEO and actually makes it fun!
Click here to access the course for $15.
Expires: November 27, 2017
---
Moo.com
Everything at Moo is 30% off, which means it's time to grab some of the nicest business cards out there!
I LOVE the business cards from Moo. They have so many great designs OR you can upload your own. The cards look and feel great and they're a classy way to present yourself to future business associates. Unfortunately, Moo.com business cards rarely go on sale. Fortunately, they're on sale right now!
Take 30% off your entire purchase for a limited time. No coupon is needed as all prices have been marked to reflect the discount.
Click here to grab business cards from Moo.com.
---
Improve your Instagram game by learning how to target your ideal audience using hashtags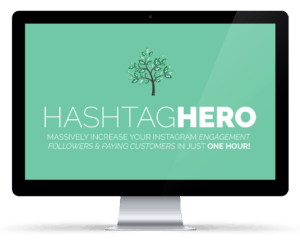 If you haven't heard of her, Alex Tooby is a bit of an Instagram expert. You can find her at her successful Instagram account, Men and Coffee, and also running the successful Facebook group, Instagram Marketing Mastermind. She put together a couple of Instagram courses and is offering one of them, Hashtag Hero, at a discount over the holiday weekend.
Hashtag Hero includes:
The Know Your Audience Workbook (get comfortable with who you're targeting before we even start on hashtag selection)
Official Training Video (one hour of practical training that you can implement right away)
The Hashtag Hero FAQ & Popular Topics Video (learn the answers to the most common hashtag questions, plus some fun tips & tricks)
The Hashtag Hero Official Workbook (make the most of this training by tracking what you've learned and found along the way)
PLUS
The Hashtag Hero VIP Support Group (a priceless addition where you can connect with Alex Tooby and other students of the course. This is the perfect place to ask questions, share your wins, connect with like-minded individuals and get one-on-one support from me!)
Hashtag Hero typically costs $127, but TODAY ONLY – November 27, 2017 – you can get the course for $77.
---
Are you thinking of writing a course or starting a membership site? If so, you CANNOT miss this incredible deal from AppSumo. With Invanto you can create courses and membership sites and with this lifetime deal, all you'll pay is $49. TOTAL. This is the craziest price ever.
I am a total AppSumo junkie and BY FAR the best deal I have found on the site was for Invanto. Invanto is an alternative for Teachable or Thinkific, except it's newer and will, I think, eventually be better. Invanto gives you the option of creating schools, courses AND membership sites, and multiple ones of each. (So, if you want to have two different membership sites, that's not a problem!)
Invanto is actually what I used to create my SEO course for bloggers! Because I'm using it, I can attest that there are still a few kinks that need to be worked out, primarily because they're still building out the system. My site, though, is fully functional and I am thrilled with how it looks and works. And, I'm thrilled that I paid just $49!
If you've used any other course-building site, you know that it can get pricey quickly. With this Black Friday offer from Sumo, though, you'll pay just $49 for a LIFETIME membership to Invanto (AKA, you'll never pay a MONTHLY fee to host your courses with them) and you won't pay transaction fees when people buy your products.
Y'all, if you ever plan on writing a course or running a membership site, make this the one Black Friday deal you buy this year. $49 freaking dollars. Incredible!
Click here to purchase Invanto from AppSumo.
Expired
---
Enter to win a FREE YEAR of email marketing via ConvertKit, but even if you don't win you'll still get your first month for free!
Many bloggers, when they're ready to take their email marketing to the next level, switch to ConvertKit. They have many great tools, like the ability to quickly and easily set up automations, sequences, and auto-responders. I personally use ConvertKit, and my class Affiliate Marketing 101 was set up through ConvertKit.
Right now they're hosting a contest to give away a free year of ConvertKit. Even if you don't win, though, you'll be able to get your first month of ConvertKit for free, which is more than enough time to see if this is a tool you need to have.
Click here to enter to win a free year of marketing from ConvertKit.
Expires: November 27, 2017
---
Themes from StudioPress – which come with the famed Genesis Framework – are some of the best in the business. This holiday weekend, returning customers can take 50% off all themes and new customers can save 25%!
StudioPress themes are legendary and many of the best blogs and websites are built on their Genesis Framework. This holiday weekend, new customers can take 25% off all themes – which come with the Genesis Framework – and returning customers can save 50%, likely because you probably already have Genesis.
StudioPress themes are solely intended for WordPress blogs. All themes are mobile responsive and come with the ability to customize pretty much everything. Whether you're looking for a feminine WordPress theme, something for your business, or anything and everything in-between, this is a great place to look, especially while there's a sale!
Click here to save on WordPress themes from StudioPress.
Expires: November 28, 2017
---
Schedule social media posts a year in advance with this easy-to-use tool and through Black Friday, November 24, 2017,  you can save 50% on a lifetime subscription!
MissingLettr is an awesome tool that pulls your blog posts when they're published, pulls quotes and photos to create sample posts, and then allows you to edit, approve, and quickly schedule social media campaigns for an entire year in advance. Not only will this cut down on the time that you spend putting together social media posts, but it will ensure that traffic flows to those posts throughout the year.
I've been using MissingLettr myself for the past few months and I absolutely love it. It's easily one of my favorite blogging tools because it's so easy to use and helps me reclaim some of the time I spend promoting posts.
Check out my MissingLettr review for more details about how it works, then click here to subscribe for $8 per month (a 50% discount).
Expired
---
Keep your social media queues full thanks to ContentStudio! Discover new content, plan your posts, automate your posting, and so much more. Typically, the Small Plan costs $47/month, but for a limited time, you can get a LIFETIME license for $69!
I am ALL about automating whenever I can, especially when it comes to social media. Where MissingLettr will help you schedule your own content to be shared on social media a year in advance, ContentStudio will help you discover new trending content from others that you can share, which will help boost engagement. You can add URLs that you love – including your own – and schedule evergreen posts to go out regularly.
Think Meet Edgar, but without Edgar's price tag because for a limited time you can get the Small Plan – normally $47 per month – for $69… for life! That's right, just one payment and you'll be able to fill your social media queues for life. I highly doubt a deal like this will ever be offered again, so grab this one now!
Click here to get ContentStudio for $69.
Expires: November 28, 2017 – This deal was extended!!!
---
An all-in-one marketing automation tool that lets you send emails and include a chat box on your blog for just $49… forever? This is a crazy good deal!
One of the things I don't like about blogging, or being an online entrepreneur in general, is that there are so many useful services, but so many of them come with a monthly price tag. I'm trying to banish monthly payments from my life, which is why I am all about lifetime deals. And this lifetime deal from ConvertFox is huge.
ConvertFox is a brand new service that lets you put a chatbox on your blog – like my handy one in the bottom right corner there! It's also an email marketing system that looks to directly rival ConvertKit in the near future. They're also developing their own lead forms and lead pages, which are coming in the next few weeks.
This $49 fee will get you everything they do now AND all future updates. Since they're aiming to be a competitor for some of the big email providers out there, and then do so much more, this is $49 well-spent, in my opinion.
Click here to get your lifetime ConvertFox deal for $49.
Expires: November 27, 2017
---
Pick up a lifetime subscription to this Instagram scheduler for just $25
Grum is one of the few Instagram schedulers that will actually let you set a date and time and then automatically post on your behalf so you don't need to worry about missing the notification on your phone. And, even better, YOU CAN SCHEDULE YOUR POSTS FROM YOUR COMPUTER.
Typically Grum costs $9.95 per MONTH for up to two accounts, but with this fab Black Friday deal from AppSumo you'll be able to get LIFETIME access to Grum for just $25!
Expires: November 24, 2017
---
Black Friday Web Hosting Deals for Bloggers
If you created a blog for free and are now looking to go the self-hosted route, or are looking for a new host (perhaps you hate your old host or are just a host jumper, like me), check out some of these awesome Black Friday web hosting deals for bloggers.
GoDaddy has a crazy deal available. You can get your first year of hosting for just $1 per month. Yes, you read that correctly. $1. Not to mention that you can also get select domain names for just $0.99 for the first year! I can't help but point out that no, I don't think GoDaddy is the best hosting option out there, but for $1 hosting it's a great way to get your feet wet in the world of self-hosting. You can always transfer to a better host, like SiteGround or GreenGeeks, the two I personally recommend, later.
Click here to get $1 hosting from GoDaddy.
Expires: January 1, 2018
If you worry about your blog's environmental footprint, GreenGeeks is the web host for you! They are backed by a commitment to renewable energy and put 3x as much energy into the grid through wind energy than they consume. Also? They're a great web host with awesome customer service and affordable prices! With the GreenGeeks Black Friday Sale, you can secure hosting for $2.95 per month for the next 36 months.
Also, if you're not sure how to compare all of these different web hosts, GreenGeeks is one of the only ones that still gives you a free domain name for the first year!
If you want to know more about GreenGeeks, check out my post about why you should consider this green hosting provider.
Click here to set up hosting with GreenGeeks.
Expires: November 27, 2017
SiteGround is one of the few web hosts that I highly recommend to bloggers and they are currently having a fabulous Black Friday sale! You can save up to 70% and get SiteGround for as little as $2.95 per month. Considering the excellent service and minimal downtime SiteGround offers, this is a steal of a deal!
If you're new to blogging, check out my tutorial for how to set up a new blog on SiteGround. You can be blogging 10 minutes from now! If you already have a blog and want to transfer to SiteGround, no worries. They'll actually do the transfer for you!
Click here to save up to 70% with SiteGround.
Expires: November 28, 2017
WPEngine is one of the best web hosts and this holiday weekend they are offering their biggest discount ever! Take 35% off your first month's payment with code "cyberwpe35". This discount is applied in addition to the 2 months free already provided with an annual subscription. This means you can get a total of 5 and a half months free when you pre-pay for your first year of hosting! Offer valid for new customers only. Not valid for existing customers, upgrades, or any other product purchase.
Click here to save 35% on hosting with WPEngine.
Expires: November 30, 2017
---
A few more deals worth checking out
There are so many Black Friday deals for bloggers that there's not enough time to explain them all in-depth. While my favorites are up above, here are a few more deals that are too awesome not to share!
• If you're in the market for a new WordPress theme, check out Pretty Darn Cute Designs because they've got some of the best! Use code "prettythankful" to take $15 off any theme in the shop through November 28, 2017.
• Mangools is a fantastic keyword search tool. Keyword search is a vital component of SEO, so having a quality tool is a must. They're offering a 30% discount on all subscriptions, whether you pay yearly or monthly. Keep the discount as long as you maintain your subscription.
• If you want to create a membership site on WordPress, you need Memberpress. Right now you can take 20% off your first year of Memberpress with code "BF2017".
• BlogVault is the most reliable WordPress backup, staging, migration & security solution trusted by over 200,000+ websites. It can backup or migrate a 300 GB site without overloading your server. This holiday weekend, BlogVault is offering their biggest ever discount – 35% off all new purchases and on all plan renewals and upgrades. Valid through December 1, 2017.
• MalCare is the first fully automatic WordPress malware scanning and cleaning plugin developed using proprietary algorithm after analyzing more than 200,000 websites. It uses 100+ signals to identify malware and provides an instant one-click malware removal feature. MalCare is offering a 35% discount on all new purchases and on all plan renewals and upgrades through December 1, 2017.
• This theme right here came from Station Seven. I absolutely love their designs and this holiday weekend you can save 30% on any of their WordPress designs or Squarespace kits! Use code "STNBLK" to save. Valid through November 27, 2017.
• OptinMonster, the creator of amazing lead forms, is offering a 25% percent discount, which is their biggest discount of the year. Unfortunately, this is only valid for new customers. Use code "BF2017" to receive the discount. Plans start at $9/month. Valid through November 30, 2017.
• Looking to learn a thing or two? You can currently save up to 50% on every class at CreativeLive!
• Here's one of my favorite Black Friday deals for bloggers, even if it's appearing on Cyber Monday: Take 15% off sitewide at The Hungry JPEG with code "15OFF"! You'll find lots of great design resources here, like fonts, themes, photos, and more!
• Save 70% on almost everything at Zazzle, including business cards! Enter code "ZCYBERMONDAY" at checkout.
• Ready to buy your domain name? Namecheap's Black Friday Sale is pretty awesome: You can save up to 99% on domain names! You might need to get a little creative to make this work, but if you're flexible you'll be able to get a super cheap domain! BTW, despite the name, NameCheap is not some second rate domain seller. This is where I buy all of my domains!
• Sign up for 3 months of Thinkific's Business Plan and get a triple threat bonus package: more than $1,000 worth of free tools, training, and support for you to create and launch your own online course.
• Get 100 stock photos for $80 from Deposit Photos. There are plenty of places where you can get free stock photos for your blog, but a package like this will grant you access to millions of unique images that will help your blog stand out that much more.
If you've spotted any awesome Black Friday deals for bloggers please link to them below!

Lisa Koivu is the founder of Oh, She Blogs! A seven year blogging veteran, Lisa can also be found posting shopping deals and steals at
ShopGirlDaily.com
. In her free time (ha!) she is also a freelance writer who has written for About.com and U.S. News.

Latest posts by Lisa Koivu (see all)