Disclosure: This post may contain affiliate links, which means we may receive a commission if you click a link and purchase something that we have recommended. While clicking these links won't cost you any extra money, they will help us keep this site up and running! Please check out our disclosure policy for more details. Thank you for your support!
There have always been a lot of rules with Instagram, but they're finally opening things up a bit by allowing things like Instagram auto-posting. Auto-posting, where you can line up all of your Instagram posts and have them publish on a schedule, is an amazing function that busy bloggers are going to love!
Hallelujah! After years of fighting it, Instagram is now working with some apps to allow auto-posting! With Instagram auto-posting, you will not only be able to pre-schedule your posts, but they'll also post at the exact time you want them to, without needing to do anything further. This may not be ideal for things like spur-of-the-moment selfies, but it will be amazing for sponsored posts!
The hitch, because there's always a hitch, is that Instagram auto-posting is currently only available for business accounts. You also need to work with a third party app, like Tailwind, as you can't schedule directly through Instagram.
A few other things to keep in mind: Currently, you can not auto-schedule videos, stories, or multi-image posts. You also can't use location tagging, product tagging, or Instagram filters.
All of that aside, Instagram auto-posting is an awesome new option that is long overdue! In addition to setting your posts and then forgetting about them, auto-posting makes it easier to plan out what your feed is going to look like, makes it possible to post from your computer, and may make it easier for you to grow your account as consistency is usually viewed as a must if you want to get more Instagram followers.
Currently, Instagram auto-scheduling for business accounts is in beta mode, and only available for Instagram partners. While most of those are primarily for agencies, two popular platforms used by bloggers are already offering this service – Tailwind and Hootsuite.
If you have an Instagram business account, you can try the Instagram auto-posting feature right now! Both Tailwind and Hootsuite offer free trials of the services, so you'll be able to see if this is something you need in your life. I already use Tailwind for Pinterest scheduling, so last night I decided to give their Instagram scheduling options a whirl. It was quick and painless, and might be a great option for some of you!
Using  Tailwind's Instagram Auto-Posting Feature
If you don't have a Tailwind account already, you can register for one for free using your Instagram account. If you do have a Tailwind account, you'll still need to register your Instagram account as a new profile (meaning you can't just use your Pinterest account).
Sign into your Instagram account to begin the process. Because I'm a jerk, I unchecked the box to follow Tailwind on Instagram.
Give Tailwind access to your Instagram data
Once you sign into your account, you will need to grant Tailwind permission to access your data.
If you're not willing to grant these permissions, you will be unable to use Tailwind's Instagram auto-scheduling feature. It shouldn't be a big deal and you can always revoke access.
Choose your device
Before you can get started, you will need to install the Tailwind App on your phone. I didn't have this app, but once I chose my device, they sent me an email with a link to download the app. This was the longest part of getting started, actually. It took about 10 minutes for that email to arrive!
Enable Notifications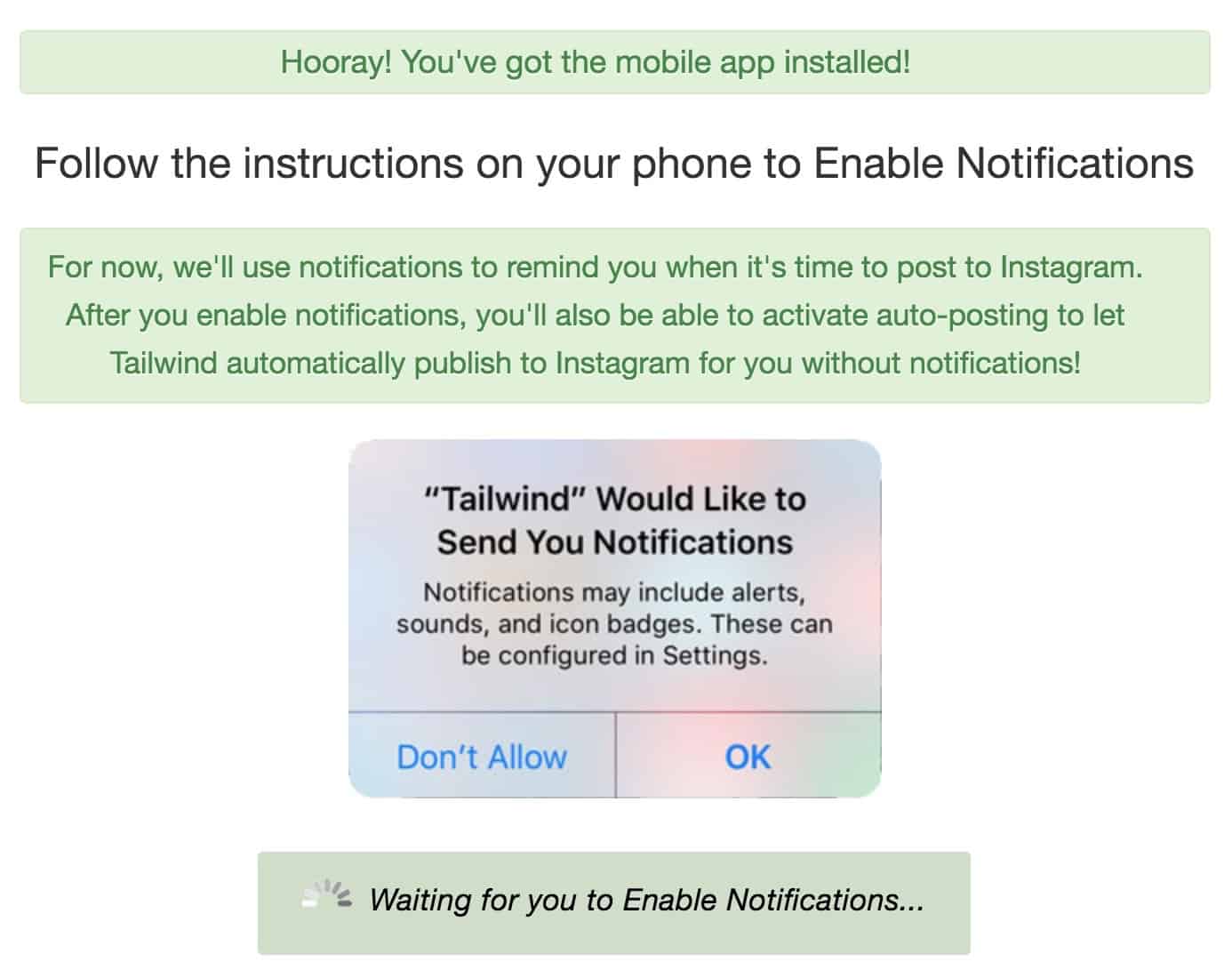 For some reason, you have to enable notifications via the app in order to finish setting things up. I understand this more if you have a personal account and can't use Instagram auto-posting, but since having a business account allows you to auto-post, I'm not sure why you need notifications, but what do I know? Once you enable notifications on your phone, you will be ready to start scheduling!
Set up your posting schedule
One of the things that makes Tailwind so awesome for Pinterest is that it will evaluate your data to make sure you're posting at the best times for your audience. Now, it will do the same thing for your Instagram account! You can tell it how often you want to post and between what hours, and they'll decide what times are optimal for you to post.
Start scheduling
Now that everything is all set up, it's time to start posting! You can schedule via your computer browser (yay!!!) or via the Tailwind app. For the rest of this tutorial, I'm going to be demonstrating how to do it from your computer.
Tailwind's Instagram dashboard
If you've been using Tailwind for Pinterest, the Instagram screen will look very familiar! On your first go through you can take a tour, which will show you everything you need to know, although I skipped it and figured things out just fine.
There's a Chrome Extension you can download, although I didn't do this since I don't really share things from the internet on Instagram. Tailwind says this may be a useful tool for regrams. On the very right of the screen, there's the posting schedule that Tailwind set up for me. As with Pinterest, you can shuffle your queue randomly, or schedule things for specific dates. The posting times are optimized based on your Instagram account, but you can always change the time.
Schedule your first post
When you're ready to schedule your first post, just click on the "Upload Images" link from your dashboard.
Once your image is uploaded, enter your caption.
Tailwind's hashtag suggestions
You can enter your own hashtags, and Tailwind will suggest hashtags based on ones you've used in the past. Not only that, but it will suggest even more hashtags that relate to the ones you're using in your post! Their color-coded system will let you know how competitive each hashtag may be. For instance, I originally had #bossbabe as a hashtag, but that ranked as "competitive" while #bossbabes was "best." That was an easy switch to make!
Tailwind created a video showing their hashtag capabilities:
Note: The hashtags publish within the caption of your post. For this reason, you might want to make sure you include some spacing so the hashtags don't butt right up against your caption. I always use five periods, one on each line, to separate my caption and hashtag.
Confirm your posting time
Once your caption and keywords are set, you can either set a custom time for your post to publish, or you can add it to your queue. If you add it to your queue, it will publish in the next available time slot according to the schedule you set up.
Verify your Instagram auto-posting schedule
Now, all that's left is for you to make sure you like when all of your posts are scheduled to go live. If you're good with your schedule, you can go on with your day because Tailwind has you covered! You won't get a notification when your posts go live on Instagram, but depending on your Instagram settings, it'll be hard to miss because those likes and comments will start coming through!
Instagram Analytics via Tailwind
Tailwind is a great tool for Pinterest analytics, and they're also providing Instagram analytics.
More analytics are nice because they can help you get a handle on the type of content that resonates best with your followers, as well as ideal posting times. I'm not sure, however, if Tailwind's Instagram analytics will be a step up on the analytics already provided by Instagram. In addition to basic data about followers, likes, engagement, etc., Tailwind also provides data on things like trending posts and top followers.
How much is Tailwind's Instagram Auto-Posting Tool?
Unfortunately for us, Instagram auto-posting is brand new, which means a few tools have a monopoly on the market. I'm sure that will change in the future, but if you want to get started auto-posting NOW, your options are limited.
Tailwind's Instagram auto-posting tool costs $120 per year. I *believe* this includes unlimited Instagram auto-posting, but can't find confirmation of that on Tailwind's website.
Please note that if you already have a Pinterest plan, this is on top of whatever you're paying for that.
If you're interested in checking out Tailwind's Instagram tool but aren't willing to commit, they do offer a free 30-day trial. You'll be able to schedule 30 posts during the trial period, which should be more than enough to determine whether or not it's a tool you want to pay for going forward.
How much is Hootsuite's Instagram Auto-Posting Tool?
From what I've seen, Hootsuite's Instagram tool works very similarly to Tailwind's. You can post images from your desktop and Hootsuite will provide you with analytics. They do not currently have the hashtag capabilities offered by Tailwind, though.
You need to be on a paid plan to use Hootsuite's Instagram tool, and those start at $19.95 per month. The price includes automation to 10 social profiles. You can also get a free 30-day trial of Hootsuite.
Instagram auto-posting is a huge time-saver!
If you're always on the go, auto-posting to Instagram is a huge time-saver. You could literally schedule out months worth of content in one sitting and not have to think about Instagram content for weeks or months at a time. At a very minimum, it's awesome being able to use images from your desktop, instead of having to post everything from your phone. I have a great image editor on my phone (A Color Story), but sometimes images are just easier to edit on a desktop.
But, regardless of your reasons, if you're looking for an easier way to schedule your Instagram content, Instagram now allowing auto-posting is a hugely awesome and welcome change.
Just an FYI: Neither Tailwind nor Hootsuite can be used to engage in the Instagram follow and unfollow method. These tools are strictly for scheduling purposes.

Lisa Koivu is the founder of Oh, She Blogs! A seven year blogging veteran, Lisa can also be found posting shopping deals and steals at
ShopGirlDaily.com
. In her free time (ha!) she is also a freelance writer who has written for About.com and U.S. News.

Latest posts by Lisa Koivu (see all)